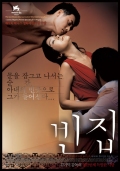 3-Iron
Rating: 8/10
Year: 2004
Genre: Romance
Director: Kim Ki-duk
Cast: Lee Seong-yeon, Jae Hee
(Possible spoiler below! Read at your own risk.)
Among all of the young Korean filmmakers, Kim Ki-duk is perhaps the one I admire most, along with Old Boy director Park Chan-wook. Not to mention his achievements and international reputation, his efficiency in quality filmmaking alone is already worth my utmost respect. In 2004, he made two films, one of them is Samaritan Girl, which earned him an award at the prestigious Berlin Film Festival, and the second one is 3 Iron, a proud FIPRESCI Prize winner at Venice Film Festival.
With a portrayal of the minority group in the society, 3 Iron is no different from any other Kim Ki-duk's movies. One may still remember the little prostitute in Samaritan Girl, or the mute gangster and deteriorated college girl in Bad Guy, or even the mentally disturbed soldier in Coast Guard. Compared to these lunatic yet miserable characters, the weird young man Tae-seok (Jae Hee) and the abused wife Seon-hwa (Lee Seong-yeon) in this movie just seem to fall into the same group. The two of them first meet when Tae-seok breaks into Seon-hwa's house and discovers that she is abused by her violent husband. Later Seon-hwa becomes a follower of Tae-seok and the two of them join force to break into people's house, not for the properties but merely for the pleasure of intrusion. As expected, love gradually blossoms between these two lonely hearts...
Just as I wrote in the review of Samaritan Girl, one of the biggest characteristics of Kim's cinema is his sympathy for the minorities of the society. This sympathy is so deep that sometimes morality is twisted for its sake. This statement is again substantiated by Kim's treatment for the characters in 3 Iron. Although Tae-seok and Seon-hwa's behaviors of breaking into people's house are morally and legally wrong and not realistic, we, as the audience, wouldn't find them to be annoying. We know that they are not bad people and instead we would commiserate with their tragic life. Their behaviors are not initiated by any evil thoughts, but it is purely a process of self-redemption, a journey to redeem their lost soul. What Kim does is to provide an opportunity for them to revive, even though it means the sacrifice of traditional moral code.
While Kim's movies are always filled with very strong and abstract visual elements, we don't really have too many visually stunning moments this time. Luckily yet, his trademark characters, that is, those who don't speak (or choose not to speak), are still present. In this movie, both Tae-seok and Seon-hwa barely speaks. Tae-seok has no dialogue at all while Seon-hwa only has two lines near the end. All of their interactions are done through precise bodily actions and gestures. This kind of narrative structure may sound difficult to many directors to work on, but it is never an obstacle for master like Kim Ki-duk. Although there is no dialogues between the two protagonists, the relationship is built up successfully through the vividly designed scenes. Moreover, what is amazing about Kim's technique is that even though there are so few dialogues, the narrative is nevertheless so captivating and entertaining that we wouldn't find any of the scenes too long or to be dragging. The editing and the pacing are much faster and cleaner than I could expect.
Actor-wise, both Lee Seong-yeon and Jae Hee have done an excellent job. Lee Seong-yeon, once a public enemy in Korea due to her inappropriate imitation of the WWII victim for a photo album, is a close match to the abused wife in this movie. The way she was isolated by the Korean community in real life provided her an excellent opportunity to study this role, and the outcome proves to be rewarding. Jae Hee, although young and fresh, is another surprise. Without any dialogues to convey his feeling and wills, he is still able to successfully build up a persona that is plausible and in fact even wins the heart of the audience. In short, we should definitely give both of the leads a big applause for their engaging and convincing performance.
To conclude, 3 Iron is perhaps not Kim Ki-duk's best work, but it is without doubt one of the best Korean movies of 2004.
Cool guy(s) - Lee Seong-yeon, Jae Hee
Reviewed by: Kantorates