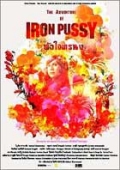 Adventure of Iron Pussy, The
Rating: 9/10
Year: 2003
Genre: Comedy
Director: Apichatpong Weerasethakul and Michael Shaowanasai
Cast: Michael Shaowanasai, Khridsada Suchosal, Siriyakorn Pukawet
(Possible spoiler below)
Contemporary Bangkok and Phuket nightlives are not replete with beautiful girls and a-go-go female table-dancers swinging their sexy bodies all the way to lure customers into their spidery trap. The Adventure of Iron Pussy playfully enhances and subverts all these elements by giving us a Thai cinematic counterpart to the British cult ??0s TV classic figure, Mrs. Peel, only that the Thai Iron Pussy happens to be a drag queen and a baldy insignificant middle-aged male, working at daytime as a 7-eleven convenience-store worker and at nighttime as the all-too-legendary trans-gendered secret agent.
Both the directors, Apichatpong Weerasethakul and Michael Shaowanasai, studied art and have immersed in experimental filmmaking for years before turning to film and video. This common background in art education has led first to the shooting of a series of short videos that Michael made as a San Francisco Art Institute Alumnus and later to be completed in digital form as a 90-minute long feature film. The result is a deliberate throwback to the Thai popular movies of the 1960s, an attempt of both genre- and gender-bending in the traditional action and melodrama distinction. In an interview with director Apichatpong, he states that his motivation of shooting Iron Pussy ??in a popular film context, through an old Thai film genre, so worn-out (and deemed cheap) that nobody??s made it anymore.??To enhance the campy feel, all the voices of the actors were dubbed by veteran voice dubbers and the cinematography creates a worn-out aura whereby the yellowish colour seems like to pop out from the movie screen. This is a deliberate man-handling of a postmodern nolstalgic sense.
The playfulness and the never-treat-it-too-serious tone make for a startled opening when Iron Pussy suddenly climbs down from a motor-bike to teach the local gangsters a lesson. The next shot exposes the true sex of Iron Pussy, followed by a beautiful shot of flashback in silent black and white that recalls the first funny encounter between Iron Pussy and his/her now sidekick-cum-boyfriend, Pew. Travelling all the way with the Iron Pussy amazon-warrior robe carrying along, the legendary sexy ??avenging angel??now accepts a new assignment from the Thai Prime Minister (who looks like the real Thaksin in person but actually comes from the comedy troupe Sapha Joke). The scene itself is hilariously funny and reaches its peak when ??Thaksin??and his company dance all the way to celebrate the future success of Iron Pussy.
To enjoy this crazy and sexy spy romp, you will need to stop acting and thinking rationally but to lay down and allow your senses to subside for one-and-a-half hours before elevating from the seat and applause the co-directors and their successful recreation of not just classic movie scenes from Baan Sai Thong and Thong in the 1960s but also an ensemble of different popular movie genres like the Western, spy adventure, musical and low-budget chop socky actioner.
The Adventure of Iron Pussy is a movie that will blow your brains out and laugh you to death unless you are someone from the Tourist Authority of Thailand wearing a pair of politically correct glass lens and making decisions to ban the movie from this year's Bangkok International Film Festival.
Last but not the least, Michael Shaowanasai also acts as Iron Pussy in the movie and is openly gay. He says in an interview that he admires the British actress Diana Rigg (who plays Mrs. Peel in ??The Avengers?? and wants to be her in a future movie role. Now Michael gets it and he has a future plan putting Iron Pussy in animation. I'll definitely endorse such idea.
Cool guy(s) - Michael Shaowanasai
Reviewed by: Sebastian Tse