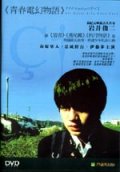 All About Lily Chou-Chou
Rating: 8/10
Year: 2001
Genre: Drama
Director: Shunji Iwai
Cast: Hayato Ichihara, Shugo Oshinari, Ayumi Ito
Shunji Iwai is always faithful to his own style, he rarely compromises both in terms of the narrative or cinematic aesthetic. In his latest work All About Lily Chou-Chou, which was made in 2001, he once again demonstrates his peculiar talent and shows us how much more he could do with a camera.
The story is based on the problem teenagers in contemporary Japan. With the use of some exotic cinematic techniques and innovative editing, the plot may seem little loose on the first hand. But it is still coherent. It aims at exploring the twisted psychologies and behaviors of the youth. The story centers on two teenagers, Yuichi and Hoshino, who also happen to be good friends in the beginning. Yushi is a quiet and reserved student who is always bullied by his friends. He can only find relief on an internet chatroom, where he discusses Lily Chou's music with his net friends; Hoshino is also a passive student at first, but he soon deteriorates and becomes the leader of a group of bad students. The only similarity between him and Yuichi is that both of them love pop singer Lily Chou's music.
Yuichi and Hoshino represent two types of students, the suffered and the dominating class. While Yuichi chooses to tolerate, Hoshino fights back. But an interesting point is that their endings turn out to be more or less identical. They are both forced to a dead corner with no exit. It is actually a warning posed by Iwai. It seems like he wants to remind us that when the teenagers are led astray, apart from their own problems, external factor (especially the parents and the teachers) inevitably carries responsiblity too. For instance, when Yuichi is caught shoplifting, what the school does is to merely send a teacher over to apologize. The teacher does not punish Yuichi or explain to him what he has done wrong. When his mother is aware of his behavior, she only scolds him, but never really tries to face the problem or find a remedy. Their failure to show care and love is an indirect but critical factor that creates very bad influence to the psychological development of the teenagers.
In terms of the cinematic aesthetic, which is probably the most important aspect for many fans, Shunji Iwai did not disappoint us. The display of the internet chatroom messages on the screen throughout the movie is quite impressive. To a certain extent, it can be seen as a direct and naked projection of the mind of the characters (Similar approach is also used in Take Care of My Cat). Background music is also employed wisely. The incongruous mixture of sound and image has created an enigmatic atmosphere that matches the complex and confused emotional states of the characters. As for the cinematography, some scenes are unbelievably beautiful, for instance, the opening scene when Yuichi is listening to Lily Chou's song in the field is exceptionally tranquil and gorgeous. While some are too dark. The handheld camera and lack of sufficient light source (Iwai loves to use natural light to shoot) have created a realistic sense for the story yet greatly hindered the viewers from comprehending certain scenes. As a matter of fact, I found it really hard to identify who is who and what the characters are doing in some particular moments here and there.
Although the plot is quite loose and the whole concept is not too innovative, Iwai's delicate and fruitful research on his subject matter has proven to be rewarding. The movie shows clearly that he has profound knowledge of the behaviors of the teenagers. That might also explain why he could have made such a decisive critique. Perhaps All About Lily Chou-Chou is not a very entertaining movie, but the depth and level of discourses it brings about are worth our recognition. It is especially recommended for parents and teachers who would like to catch a glimpse of what their kids are thinking.
Reviewed by: Kantorates