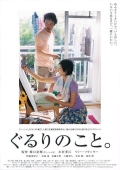 All Around Us
Rating: 9/10
Year: 2008
Genre: Drama
Director: Ryosuke Hashiguchi
Cast: Lily Franky, Tae Kimura, Susumu Terajima
Best known for his critically acclaimed drama revolving around homosexual relationships, Japanese director Ryosuke Hashiguchi took a long vacation before he struck back with a totally different film All Around Us, a family drama about a straight couple told in epic scale, in 2008.
The story involves a banal couple who live together, with the male protagonist Sato (Lily Franky) as an impoverished arist and the female Shoko (Tae Kimura) as an editor working for a small publisher. It begins in 1993 when Sato gets a chance to quit his tedious shoe repair job to become a court artist responsible for sketching courtroom scenario for a television station. At the same time, his domestic partner Shoko is pregnant. Life seems to be following the right direction. However, things gradually turn bad when they lose their baby, and the trauma further leads Shoko to suffer from a mental breakdown...
It is perhaps a little bombastic to call this film an epic, as the story mostly focuses on two ordinary individuals and their daily life only. But with a time period spanning 8 years, from 1993 to 2001, and the intentionally integration between social and current affairs and the story, together with the director's unique and sensitive perspective on life and society, the film is destined to be something more than just an ordinary love tale. On the other hand, it is perhaps safe to say that the film is a social study of how one responds to the matter of death at difficult time. It is so obvious that the director, through a very distant and aloof viewpoint, attempted to portray the change of contemporary urban life in Japan in the last decade and its impact on people's mind.
What makes this film work is that, despite having a subject of life and death, director Ryosuke Hashiguchi doesn't turn his material into a susceptible and tear-jerking melodrama. Instead, just like Lily Franky's composure, his point of view is always so calm and remote, that to a point it succeeds in washing out the misery of all the misfortunes the characters are facing. Cautious viewers may notice that the stories of this film, no matter the loss of baby or the pain brought by the separation of Shoko's parent, which is at a more intimate level, or the court case subplot like the killing of innocent kids and the poison gas attack at the train station, which has a bigger influence on the entire communtiy, all of them alone are already good materials for building up a conventional tragedy. The good thing (which is also a fortunate one) though is that Hashiguchi doesn't stick with convention, he rather picks an aloof approach to tell his story, which includes the use of long take and long shot, highly restrained performance by the cast, the seldom use of close-up, and the insert of a rather uplifting soundtrack, etc. Furthermore, Hashiguchi also employs a time-lapse technique, that is usually seen in Yasujiro Ozu's films, to skip most of the apparently passionate moments. For instance, when Sato and Shoko lose their first baby, we are never told how and why, instead after the scene showing Shoko is pregnant, the next shot already indicates half a year has passed and the baby is gone. Similarly, when Shoko's mother has asked her to visit her sick father, we are also not shown the scene of the actual visit, but rather it is told through Shoko's dialogue when she visits her mother and brother. Hashiguchi's style allows him to stay far and intact as an observer, without really making any judgement on his characters.
Acting-wise, Lily Franky and Tae Kimura represent two very different personalities. Franky is a reserved and quiet man who is emotionally stable, while Shoko is more sensitive and sentimental. Franky, a multi-media artist who is best known for writing the original story of Tokyo Tower, is a perfect fit for the role as Sato. The character just seems to be personally tailored for him, his tranquility and laid back attitude makes him the best spokersperson of the director. Female lead Tae Kimura took home the best actress award at the Japanese Academy Award for her role as Shoko. Her performance as this mentally sick patient is awesome, though it looks quite calculated as compared to Franky's spontaenous style of acting. The chemisty between the two is a little weaker than expected.
It is not a surprise that All Around Us would beat Tokyo Sonata and Still Walking in Kinema Junpo's (which is like a Japanese version of Cahiers du cinema) top ten Japanese films of the year. The film centers on ordinary individuals and provides a detailed social document of Japan through its meticulous observation of life and organic amalgamation of materials. For those who only see one Japanese film a year and want to avoid films everyone talks about (e.g. Departures, Tokyo Sonata), this is definitely the best alternative.
Reviewed by: Kantorates