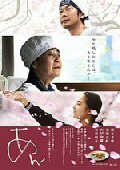 An
Rating: 8/10
Year: 2015
Genre: Drama
Director: Naomi Kawase
Cast: Kirin Kiki, Masatoshi Nagase, Kyara Uchida
A Secret Recipe for a Happy Life
Tears rolled down from my eyes while watching An. The movie reminds me of the evils of discrimination. Unique and beautiful, everyone deserves love. Also, it is important to throw oneself heart and soul into everything one does. Let's say NO to a flippant attitude and I hope my students can understand that constant efforts yield success. Moreover, this touching movie reminds us to treasure what we have and not to take everything for granted.
Although the story is rather simple, the film is worth watching because of Kirin Kiki, one of the best Japanese actresses. Her acting is beyond compare. I totally feel for her character, who stays positive and truly appreciates the beauty of the mother nature despite her sad story. Masatoshi Nagase is impressive too. He subtly expresses his suppressed frustration, in spite of his long silences at the beginning of the film. I also love his performance in another film, Kano. Apart from the capable leads, the cinematography is awesome. The four seasons, the food and the mother nature are beautifully captured.
Like red beans, life is bittersweet in nature. Nevertheless, the elderly woman's secret recipe for truly transcendent dorayakis reminds us that we are able to get rid of the bitter taste, with a good attitude, smiles, effort and love.
Reviewed by: Kenji Chan