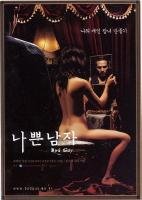 Bad Guy
Rating: 8/10
Year: 2001
Genre: Drama
Director: Kim Gi-Duk
Cast: Cho Jae-Hyun, Seo Won
Bad Guy is a very freaky film. If you have seen The Isle which is directed by Kim Gi-Duk, the director of this film, you should be able to expect how unconventional this film could look. Among all the Korean films I have seen recently, this film did absolutely provide the most unforgettable viewing experience.
The story of this film is grotesque and illogical. One day, a third class gangster Han-Gi (Cho Jae-Hyun) comes across a pretty college girl Sun-Hwa (Seo Won) on the street. He wants to approach her but is refused by her. Then he sets up a trap for her to step into, and ruins her life by turning her into a prostitute. Although Sun-Hwa realizes that it is Han-Gi who set her up, she gradually develops a bizzarre romantic relationship with him... Weird enough, huh? Apart from the story itself, Kim Gi-Duk's directorial approach is also very exotic and peculiar.
The first three minutes of this film is spectacular. Without the use of any meaningful dialogues, Kim Gi-Duk draws our entire attention through a series of events that is visually stunning. This startling beginning gives us a precaution, it warns us that this story is not going to unfold as it usually happens in a conventioanl narrative film. Therefore, we should keep an open mind when we watch it.
It seems that Kim Gi-Duk never ran out of innovative ideas, there is the protagonist who has one single line of dialogue in the film, the freaky beach picture, the room with a non-reflex mirror that is connected to a dark room, and many more. The setup of every element is worth to explore and analyze. For instance, what Han-Gi does in the dark room demonstrates the film theory of "visual pleasure " as proposed by Western film theorist Laura Mulvey. In Mulvey's famous article on the relationship of cinema and visual pleasure, she writes that one of the biggest attractions of movie watching is the pleasure of voyeurism. The object of this voyeurism is always the beautiful women. In this film, Sun-Hwa, the beautiful college girl turned prostitute, is the object of the male gaze that is represented by Han-Gi. In some senses, it seems that the director is trying to test this theory with his characters, thus, elevate it to another dimension to a certain extent.
Lead actor Cho Jae-Hyun's performance is excellent. For those who are familiar with Korean cinema, you should notice that he also has a supporting role in Interview in 2000. In this film, which I think is his best role so far, Cho has successfully transformed himself into this spooky gangster who almost never speaks at all. He relies totally on his facial expressions and body gestures to act. It is a great challenge for an actor and Cho proved to us that he is one of the top-notch actors in the industry. Lead actress Seo Won is also impressive. She plays out the complicated inner struggle of her role convincingly.
The only problem I found with this film is the loose narrative, that is, some of the scenes are confusing, it is hard to understand what the director wants to convey. In conclusion, Bad Guy is not a film for everyone, however, if you are a serious film lover, you can't go wrong with this one. It is also highly recommended for those who are interested in Avant Garde films like Memento Mori. Having classfied it as Avant Garde, don't get the wrong impression by thinking it must be a boring film. It is wrong. Just like any other mainstream commercial flicks, Bad Guy is as entertaining as you can expect.
DVD (Korean version) - The image and sound qualities are superb. According to the cover, this is supposed to be a special edition, a lot of extra materials are therefore expected. There are a "making of" documentary, trailer, still gallery & OST, cast and crew info/interview and some more. The selection menu is beautifully designed. Just like many Korean DVDs, the extra materials do not have subtitles, but don't worry, the film itself is already worth the price of the disc, moreover, not all the extra features require subtitles to enjoy.
Work Cited: Mulvey, Laura. "Visual Pleasure and Narrative Cinema". Narrative, Apparatus, Ideology. Columbia University Press, 1986.
Cool guy(s) - Cho Jae-Hyun, Seo Won
Reviewed by: Kantorates