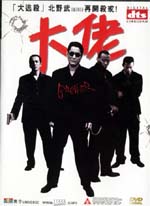 Brother
Rating: 8/10
Year: 2001
Genre: Gangster
Director: Takeshi Kitano
Cast: Takeshi Kitano, Masaya Kato, Claude Maki, Omar Epps, Ren Osugi
Takeshi Kitano's films are always accused of being too slow-paced and experimental, for instance, it will be reluctant to categorize Violent Cop and Hana-bi as conventional films since the structure of these films are very different from classical Hollywood films. However, Brother is totally different from Kitano's old films, it is highly commercial and entertaining.
The film starts with Yamamoto (Takeshi Kitano), the henchman of a yakuza boss, being expelled to Los Angeles because of the collapse of his yakuza family. There in Los Angeles, he inhabits with his brother Ken (Claude Maki), a local gangster who has connection with some local drug dealers including Denny (Omar Epps). Yamamoto soon becomes the leader of this small group. Under his leadership, they take over several gangster groups and become one of the most powerful criminal organization in the area. They decide to expand their business by teaming up with another Japanese crime leader called Shirase (Masaya Kato). The joint force attempts to challenge the Italian Mafia and gradually turns from the heyday to the doomsday.
Unlike Kitano's Violent Cop and Hana-bi, there is no more slow-paced fixed shots or baffling montage in this film. Every event appears chronologically and every element is added in order to stimulate the appetite of the audience at the right moment. Every moment of the film is interesting and entertaining. The gun-fight and killing scenes are brilliantly designed, for instance, how Shirase uses the chopsticks to interrogate his enemy, how Yamamoto punishes Denny with the broken bottle in their first encounter, all of them are visually stunning and unforgetable. The use of violence is very different from what we have seen before. Kitano has developed his own aesthetic of violence that is totally original and organic.
While some people might argue that this film is too commercial and lacks the artistic value as seen in Hana-bi (That might also hold true since Kitano is always changing his style in order to break into Hollywood), what is not changed is Kitano's love in exploring the complexity of human choice under extreme condition. In Violent Cop, Kitano has to deal with the mentally handicapped sister and the yakuza threat; in Hana-bi, it is his wife, the cops and the yakuza; now in this film, it is his "brothers". If you want to interpret Kitano's choice, you have to be aware that it is not only a matter of the intimate relationship among these guys, it is also related to the yakuza's code of honor. As Takeshi Kitano says in some interviews, the choice of the characters in his films are always triggered by a very traditional way of thinking that links back to the profound history of Samurai. It is this sense of Japaneseness that makes his films so rich and meaningful.
No matter you are a Kitano's fan or not, Brother is worth watching. It is definitely a success in pointing a new direction for the yakuza (Japanese gangster) genre in Japan.
VCD (HK version) - The image and sound qualities are very good. But I strongly recommend anyone who loves this movie to get the DVD version. Trust me, it is the kind of film you would like to see in its best quality. One more reminder is that, the US version is edited, many violent scenes are gone. If you want to see the uncut version, better get the HK or Japanese version.
Cool guy(s) - Takeshi Kitano
Reviewed by: Kantorates