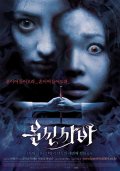 Bunshinsaba
Rating: 8/10
Year: 2004
Genre: Horror
Director: Ahn Byung-ki
Cast: Kim Kyu-ri, Lee Se-eun, Lee Yoo-ri, Choi Sung-min, Choi Jung-yoon
Bunshinsaba is unlike other summer horror movies in South Korea. You don't feel frizzly cold but instead burningly hot. Scenes of fiery fire burning human bodies and melting skins distinguish this movie from this director's past ones, especially the 2002 hit, Phone, where heavy rainfall nearly overwhelms the scene.
The movie starts with a creepy scene when three female high school students sang out an old incantation "Bunshinsaba" to raise up a ghost spirit to avenge their deeply-hated bullying gang. One by one the Gang of Four began to commit suicide in extremely horrible settings (two of them with their heads wrapped up in a plastic bag before setting fire on themselves). Gradually, it becomes clear that the ghost spirit led loose was one old high student (In-sook) who had died mysteriously with her mother 30 years ago in a village called In Wha (wherein the name in Korean means either social harmony or ignition). Villagers headed by the School Commissioner and the Principal start their witch-hunt against Yoo-jin, the culprit student accused of setting free the ghost of In-sook. The year-long mystery starts to unfold when it becomes clear that all the villagers and their offspings have been victims of a deadly curse: they will all die if they dare leave the village. The question becomes: what had been done by the villagers and who made that curse?
Bunshinsaba has the honour this year to serve as the Closing Films at both the Tokyo International Fantastic Film Festival and the Pucheon International Fantastic Film Festival. Undoubtedly, the movie is intense enough to leave the audiences greatly unsettled. Every female actress in the movie resembles the patients suffering from deep hysteria. Yellings, screamings, and howlings nearly drown out the fire explosion sound. The Ku Klux Klan images of the villagers holding high their firewood are another great moments of horror. Nevertheless, there are also images attributed to such Japanese horror as Ringu, and Tomie.
Like his previous movie, Phone, Director Ahn continues to throw stones against the established Korean cultural practices of conformity and xenophobic feelings. Yoo-jin is bullied because she is different; as did In-sook in the past. Another meaningful interpretation is to see in the Korean rigid sense of xenophobism. Here, Park Chan-wook's short film in If You Were Me travels well in Bunshinsaba too.
Ahn's anti-masculine stand has already been shown in Phone. Now he has extended further his critique of Korean patriarchal tendency by giving us a twisted ending that seems to carry the message that Korea's future lays not in the hands of male but female.
All in all, a strongly recommended horror movie.
Cool guy(s) - Kim Kyu-ri
Reviewed by: Sebastian Tse