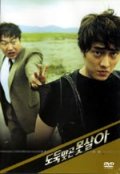 Can't Live Without Robbery
Rating: 7/10
Year: 2002
Genre: Comedy
Director: Im Kyung-soo
Cast: Park Sang-myun, So Ji-seob, Song Seon-mi
Can't Live Without Robbery is a very enjoyable comedy. Frankly speaking, I didn't expect much when I watched this film, that may explain why I found it unexpectedly entertaining and engaging. Obviously, this is not a mega-budget production, but the director was smart enough to utilize his limited resources and produce a comedy that actually works.
The premise of the story is quite brilliant. Kang-jo (So Ji-seob) is a successful computer game programmer. He is rich but he has a strange habit of burglary. The more difficult to break into a house, the more satisfaction he gains from it. His latest target is a big mansion in the rural area of the city that is owned by a civil servant Sang-tae (Park Sang-myun). He breaks into this house several times, but each time he only steals worthless stuff like TV remote controls and sushi. Sang-tae is enraged and he decides to fight back! What is good about this film is that the plot is very simple and direct, it does not contain any love sub-plot or distracting side elements, the viewers are rather able to pay their full attention to the battle between Sang-tae and Kang-jo. The jokes are well constructed as they always come at the right moment. Moreover, Most of the scenes are crazy, but not totally ridiculous or illogical, which makes it easier to follow and appreciate.
Although the budget of this film was quite limited, the production quality did not deteriorate at all. Computer special effects are used effectively that greatly enhance the fun and excitement provided by the movie. Editing and cinematography are vigorous too. But what really captures the viewers' attention is probably the characters, especially the protagonist Sang-tae. Yes, this entire movie is centered on Sang-tae. Humors mainly derive from this impotent father/husband. He is weak and incapable of protecting his family from the burglar. This goon-like character is greatly ridiculed by the filmmaker. It's not until the end that he is finally able to regain his confidence and win the respect from his children. Conversely speaking, the depiction of another important character Kang-jo is quite brief and superficial. Apart from his burglary habit, the viewers do not really know too much about him. He is merely a tool for Sang-tae to regain his confidence. I would say the plot is quite unbalanced as it suffers from a lack of character development for Kang-jo and other side characters. Basically it is like a one man show of Park Sang-myun. If I were the filmmaker, I would probably turn Kang-jo into a female, as it can not only continue the trend of strong female lead in contemporary Korean cinema, the constrast between the inpotent Sang-tae and the capable Kang-jo would also become more dramatic and obvious.
As I have said above, this is a solo showtime for Park Sang-myun. Once again, following the success of My Wife is Gangster, Park plays a weak male lead convincingly, despite his chunky image. But this time, he does not have to hide behind his wife anymore, as he is able to demonstrate his power with his martial art skills (spoiler?)! Popular television actor So Ji-seob makes his film debut in this film. His confident face fits the role of Kang-jo perfectly. It is a pity that his character has failed to steal the spotlight from Park at all. Song Seon-mi as Sang-tae's wife is also impressive. But I can hardly regard her as the female lead, as she doesn't really share too much sreening time. Her significance in the movie is even smaller than Sang-tae's two children.
There are always some hidden gems every year. Can't Live Without Robbery is without doubt my personal pick of this type of 2002. It does not carry any profound message, nor does it happen to be a blockbuster with an extravagant cast. The most crucial point, however, is that, it is a successful commercial comedy that is able to demonstrate high level of professionalism and carry out its job convincingly.
Cool guy(s) - Park Sang-myun
Reviewed by: Kantorates