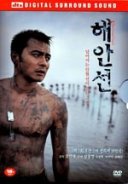 Coast Guard, The
Rating: 7/10
Year: 2002
Genre: Drama
Director: Kim Gi-Duk
Cast: Jang Dong-gun, Kim Jung-hak, Kim Ji-ah
Kim Gi-duk's films are always controversial and bizzarre. In the beginning of 2002, he first impacted our mind with the sadistic Bad Guy, and then near the end of the year, he concluded with the psychopathic The Coast Guard.
Following the peculiar style of Kim Gi-duk's other works, the setup of the story is quite simple and direct, Plotholes are easy to spot as usual. Kang (Jang Dong-gun) is a coast guard who works at the border of South Korea. He shoots a trespassing civilian down during his duty. After that, he begins to suffer from mental breakdown and gradually turns insane; On the other hand, Mi-young (Kim Ji-ah), the girlfriend of the killed civilian, is shocked by what she witnesses at the scene and also ends up being a psycho. The two of them wander around the camp of the coast guard like drifting spirit, causing a lot of pressures to the soldiers there... The whole story centers on the character of Kang, his mental state is depicted very delicately, you can feel the progressive change of his mind from the confident and strong coast guard to the horrible maniac easily. Jang Dong-gun's performance is excellent. It is a pity that he was not able to win the best actor award at the domestic film award ceremony.
Kim Gi-duk's movies are always complicated, it is very hard for the audience to find a starting point to retrieve the actual message he wants to deliver. The story of The Coast Guard is full of implicit symbols and connotations, and it is presented in an abstract way, that different viewers will probably respond to it in very different ways. It is not easy to summarize this movie. Nevertheless, if you talk about the most remarkable aspect, it must be the depiction of the characters. Apart from Kang which I have already mentioned above, Mi-young is another character that is worth to mention. Similar to the female characters in The Isle and Bad Guy, her life is very miserable, yet she is not totally worth our sympathy. If you consider the causes behind all these tragedies, what she gets is not totally the fault of the coast guards, she is actually the one who should be blamed. Relatively speaking, Kang is not the only one who should take all the responsibilities, he is in fact the victim of this incident. Kim Gi-duk leads us to see the reality from a reversed perspective, which is quite introspective, as it is the alternate side of reality usually ignored by us.
While The Coast Guard may not appear as controversial as Bad Guy, Kim's direction is instead more confident and mature in this film. If you've never seen any Kim Gi-duk's movies and want to start learning about his works, The Coast Guard is a good choice to begin with.
Cool guy(s) - Jang Dong-gun, Kim Ji-ah
Reviewed by: Kantorates