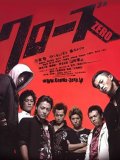 Crows Zero
Rating: 7/10
Year: 2007
Genre: Action
Director: Takashi Miike
Cast: Shun Oguri, Takayuki Yamada, Meisa Kuroki, Kyosuke Yabe, Kenta Kiritani, Goro Kishitani
Takashi Miike is perhaps one of the most prolific directors in Japan. With at least three to four productions attached every year, he always manages to maintain a diverse library of works, from low budget gangster to horror, and from sci-fi to blockbuster. In 2007, Miike made Crows Zero, a comic adaptation starring two of the most popular young actors in Japan Shun Oguri and Takayuki Yamada. The film was very well received and even led to a sequel that came out earlier this year (2009).
Adapted from the namesake comic title by Hiroshi Takahashi, Crows Zero tells a very simple and straightforward story about a high school newcomer's attempt to conquer a gangster school named Suzuran High. When Genji (Shun Oguri) enters the school, he makes a deal with his father Hideo (Goro Kishitani), who is the boss of a big yakuza syndicate, that if he is able to unify the school, he will be allowed to succeed his father's place in the future. However, things are not as easy as he expected. His ultimate opponent is the King of a Hundred Beasts Tamao (Takayuki Yamada) ...
Director Takashi Miike started his career making yakuza films, so in some senses, running a gangster high school isn't something unfamiliar to him. In fact, even though the story of Crows Zero happens mostly in a high school, the structure and the character developments are no different from the yakuza genre. Genji, a newcomer to the school, is simply like a low-ranked yakuza striving to the top. Through his conquest, he has made friends with various "brothers" and gradually learned the true meaning of being a leader. To Hong Kong audience, it is just like the Japanese version of the infamous Young and Dangerous series.
Since the story is rather straightforward, and the limitation set by the original comic also leaves tiny room for creativity, much of the attention seems to focus on visual and sound effects. There are quite a number of fight scenes, and everyone of them is carefully crafted. Although they are mostly just a group of students beating up another group, with no specific fight style at all, the camera work and editing are splendid, and the sound effects, accompanied by an energetic music soundtrack, mix together very well, providing a grand and visually stunning viewing experience for fans of the action genre. The last fight scene in the rain is especially a visual tour de force.
As someone who hasn't read the original before, it is perhaps hard for me to comment on what kind of change the director made. But from what the end product shows now, the overall atmosphere is very dark and desperate. Compared to another comic turned action comedy Be a Man: Samurai School, which features a very similar story but maintains a highly comical resemblance to its original, what Crows Zero attempted to do is quite the opposite. It refuses to remind the audience that it's adapted from a comic and keeps its comical element to minimum.
Playing the lead characters are Shun Oguri and Takayuki Yamada, both are hugely popular in the show business. Oguri is probably best known to Western audience for his roles in The Neightbor No. 13 and Sukiyaki Western: Django, and Yamada definitely stuns those who first recognized him as the "Train Man" in Densha Otoko. Both have done a good job in the film, yet Oguri's wooden performance is perhaps less impressive than the surprisingly impetuous transformation of Yamada.
Among Takashi Miike's fruitful portfolio, Crows Zero belongs to the more affluent category with a more generous budget and production value. The overall pacing of the film is fast and tight, the action scenes are eye-catching and the characters are unforgettable. Fans of the gangster genre should enjoy it. The box office in Japan was a clear sign of its success and prompted a sequel which also fared well.
(The film is an official selection of Another Hole in the Head Film Festival in San Francisco starting June 5th 2009.)
Reviewed by: Kantorates