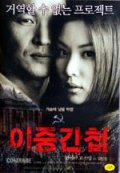 Double Agent (aka: Comrade)
Rating: 7/10
Year: 2003
Genre: Drama
Director: Kim Hyun-jung
Cast: Han Suk-kyu, Ko So-young, Chun Ho-jin
After a three-year respite, beloved Korean actor Han Suk-kyu finally made his return to the film business with his latest film Double Agent (aka: Comrade), which is directed by new director Kim Hyun-jung. What is worth to mention is that Han is also the co-producer of this film. Similar to Han, co-star Ko So-young has not been in any movie for quite a while too. The teaming up of this couple has made this movie one of the most anticipated one in 2003.
Carrying some similarities of Shiri, this film features an intricate spy tale intertwined with a pathetic love plot. Byung-ho (Han Suk-kyu) is a North Korean agent who has chosen to defect to South Korea. He gains the trust from the South Korean government and becomes an agent of the intelligence bureau short after his defection. But it turns out that he was actually ordered by his superior in North Korea to defect, with a mission to revolutionize South Korea. Soo-mi (Ko So-young), another espionage disguised as a disc jockey, is Byung-ho's new partner in South Korea. The two of them begin to infiltrate the intelligence bureau, an unexpected love affair gradually ignites during their contacts... Suspense is not an easy genre to handle. The filmmakers have to be extremely careful to avoid plot holes and irrationality. In this regard, director Kim Hyun-jung's effort is notable. Although the story still suffers from some minor incongruity here and there, and the depiction of the North and South Korean agents is also a little bit too harsh, the overall narrative is still very well presented. Viewers will not be baffled by the complicated plot development. Those who have no prior knowledge about the conflict between North and South Korea should also have no problem comprehending the story.
Compared to the enjoyable story of suspense, the relationship of the characters are somewhat less impressive. By that I mean the love affairs between Byung-ho and Soo-mi. Throughout the film, there are very few scenes that actually tell the audience they are falling for each other. In fact, they never seem to interact closely. So when they finally get together at the end, it is very hard for the viewers to feel for their intimate relationship. The two of them simply fail to produce any chemistry. Comparatively speaking, the two sub-plots, that is, the friendship between Byung-ho and his superior Baek (Chun Ho-jin) as well as the "father and daughter" attachment between Soo-mi and the old agent, are actually much more captivating. From enemy to friend, and then from colleague to enemy again, Byung-ho and Baek's interactions are full of intimidating dramatic twist.
Han Suk-kyu's portrayal as the deceitful agent is satisfactory. But it doesn't really provide any present surprise for the viewers, as he has played the role of a government agent in Shiri before. Han doesn't really bring in any new elements to his characters, but merely retains his usual style with his trademark stony face. Ko So-young as the perplexed-mind agent is also qualified. However, as I have said above, this character is not too well developed. The biggest pity is that the script fails to give her too many opportunities to fall in love with Byung-ho. So don't expect a passionate Ko So-young as you might have seen in A Day or Love Wind Love Song.
Apparently, the director was setting his ambition a little bit high. There were a lot he wanted to do, but with various reasons including his lack of experience, the overall result turned out to be not as breathtaking as expected. Nevertheless, I wouldn't call it a failure. In short, Double Agent is still a very entertaining piece of work. Perhaps it is not a big surprise, yet it certainly won't disappoint you either.
Reviewed by: Kantorates