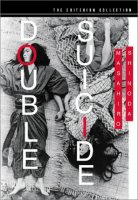 Double Suicide
Rating: 6/10
Year: 1969
Genre: Drama
Director: Masahiro Shinoda
Cast: Kichiemon Nakamura, Shima Iwashita, Yusuke Takita
Although Masahiro Shinoda's films might not be well appreciated outside Japan, his artistic achievement in Japanese film history is always highly recognized. Double Suicide is adapted from a Chikamatsu play. It is about the love suicide of a paper merchant and a prostitute. The story focuses on the struggle of the lovers.
Similar to films like Kenji Mizoguchi's The Last Chrysanthemum and Kon Ichikawa's An Actor's Revenge, this film resembles a theatrical performance in terms of the setting and the acting style of the actors.
The setting of this film is highly exotic and stylistic. Most of the scenes, except the beginning and the end, are shot in studio. The settings, including the interior of the house and the street, look like a theatrical stage that are not realistic at all. In certain scenes, The camera moves from one corner of the house to another, it makes you aware that the interior of the house is actually a stage rather than a real house. The camera movement, which serves as transition between scenes, further enhances the theatrical and artificial atmosphere of the film and keeps reminding you that this film is a play.
The acting style of the actors is very unnatural. All the gestures and movements of the actors are carefully planned, as well as the dialogues which seem to be adapted directly from literature. For instance, although the suicide at the end is shot on location, the acting of the actors keeps reminding you that this is not reality. Throughout the film, there are also some "Men in black" characters appearing in between. These characters are known as "bunraku" (literally it means puppet) in traditional Chikamatsu performance. They do not seem to belong to the diegesis of the film. I think they possess the function of benshi perfectly. They will arrange the setting for the characters in certain scenes, they will narrate some of the events happening at certain moments. Although sometimes they seem to be involved in the action of the characters (For instance, the suicide at the end), they do not intrude into the narrative actually. Their action only smoothens the transition of the film, rather than adding additional elements to it.
This film is a very faithful adaptation of the Chikamatsu play. While retaining all the original elements of the play, Shinoda also succeeds in injecting his own signature and providing the viewers a wonderful and original viewing experience.
35mm (US version) - I watched this film at the Pacific Film Archive (PFA) in Berkeley. It is the 35mm threatrical release in its best image and sound qualities. It was an one time special screening for a Japanese Cinema Lecture. I was really lucky to be there and would recommend anyone who loves Japanese Cinema to take a look at the program note of PFA periodically. As far as I know, they have many Asian movie lovers working there and are eager in promoting and exhibiting Asian Cinema.
Cool guy(s) - Shima Iwashita
Reviewed by: Kantorates