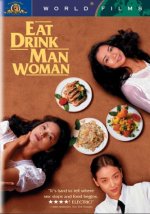 Eat Drink Man Woman
Rating: 10/10
Year: 1994
Genre: Drama
Director: Ang Lee
Cast: Sihung Lung, Yu-wen Wang, Jacqualine Wu, Winston Chao
Simply memorizing! Not only is this film touching, but it literally makes you hungry! When Ang Lee has a vision, it's not hard for the audience to understand or see his concept. His passion is clearly visible and the notions he presents across the screen is heart felt.
Every Sunday Chef Chu (Sihung Lung) prepares an elaborate dinner for his three lovely and beautiful daughters. With exotic dishes at hand, the family is learning each Sunday that each family member has been growing into their own individualism. There are adjustments to be made, but every family member will learn they will need each other for the next step.
The meals in the film touch on the foursome's general lack of desire for life. Chu has lost his sense of taste, and his daughters just want to go on with their separate. However, like every family in the world, things are changing and suprises are about to surface.
Prepare yourself for a little more than just a good film. Like every family, each member will want change and desire their own happiness. Yet, though changes may occur, love will always be there as will the desire for food.
The whole entire film is well done to say the least! From acting to editing, from style to cinematography, the film is top notch from beginning to end. The best two words to sum this film is, Ang Lee.
Cool guy(s) - Sihung Lung
Reviewed by: Thuan Vu