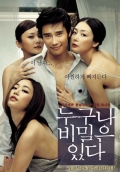 Everybody has Secrets
Rating: 7/10
Year: 2004
Genre: Comedy
Director: Jang Hyun-ju
Cast: Lee Byung-heon, Chu Sang-mi, Choi Ji-woo, Kim Hyo-jin
Everybody Has Secrets is a love rhapsody, it is a dream comes true for every playboy. Starring Lee Byung-heon and Choi Ji-woo, two of the most popular Korean artistes in Asia, the movie did very well at the box office in Korea and Japan, and perhaps even better than it deserved.
Not really a faithful remake of About Adam, Everybody Has Secrets merely borrows the story outline of the Irish movie and replaces the details to fit the taste of Korean audience. The story mainly revolves around Soo-hyun (Lee Byun-heon) and three sisters. While he is falling in love with the youngest sister Mi-young (Kim Hyo-jin), he also tries to seduce her two sisters, the "old virgin" Sun-young (Choi Ji-woo) and the married Jin-young (Chu Sang-mi). The three sisters are captivated by Soo-hyun's sweet talk and begin to put morality aside...
While Korean male has been seriously suppressed on the big screen in these few years, in this movie, Soo-hyun sort of reverts this trend and helps re-build a strong masculine image for the male. He is the one in charge and manipulating the romance with the three sisters. It is him who is triggering the lust of the girls and luring them to trespass the moral boundary. Considering its boldness in diverting from the mainstream, it is no wonder why this movie was much welcome by the audience (especially the male audience).
I do enjoy the premise of the movie, but somehow I think the production just seems to fall short a bit in terms of the narrative structure and editing. For instance, the romance between Soo-hyun and Mi-young is just too cliched and fast-paced, making it less persuasive. Later the triangular relationship among Soo-hyun and the other two sisters is also very fragmented and spontaneous. Each of these small scenes is perhaps funny and appealing, but together they just fail to form any strong drama.
Different from movies like Marriage is a Crazy Thing (2002) in which the attitude toward sex is treated in a realistic manner, sex and love is depicted comically in Everyday Has Secrets. Although you know that Soo-hyun's behavior is outrageous, you just wouldn't find him disturbing at all. Actor-wise, Lee Byung-heon, who is never tired of showing his confident smile, is perfect for this playboy role. Lee is a hardworking and versatile actor, no matter good or evil, normal or mad, he is always capable of performing his roles well. The three sisters Chu Sang-mi, Choi Ji-woo and Kim Hyo-jin are all impressive too. While Choi Ji-woo shares most of the show time, Chu Sang-mi's composed yet sentimental performance makes her the one who actually steals the show!
Everybody Has Secrets is worth a look if you don't mind its weak narrative structure and generally playful manner of its subject matter. Fans of Lee Byung-heon and Choi Ji-woo also shouldn't worry as both of them have done a more than satisfactory job in the movie. The overall comment is: see it, but don't expect too much.
Cool guy(s) - Lee Byung-heon, Chu Sang-mi, Choi Ji-woo
Reviewed by: Kantorates