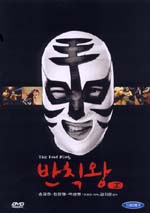 Foul King
Rating: 8/10
Year: 2001
Genre: Drama
Director: J.W. Kim
Cast: Song Kang-Ho, Jang Jin-Young
Due to the marketing and packaging strategy, Foul King is always perceived as a no-brainer comedy. People only laugh at the queer outfit of Dae Ho (Song Kang-Ho) and ignore the meaningful implication behind. If you are one of these people, I have to tell you that you have missed a lot.
Our protagonist Daeo Ho (Song Kang-Ho) is a shy bank clerk. He is a great failure both at the bank and at home. He does not gain any respect from his boss and his father. In order to regain his self-esteem, he decides to learn pro wrestling and becomes a wrestler eventually...
You might ask, this is just like other comedies I have seen million times before, what is so special about it? What did I miss? To me, the explicit comic element is not the essence of this movie. What makes it valuable is the message behind that the director wants to convey, that is, the sorrowful nature of life. Once you are trapped in this bureaucratic system of the society, there is no way out. In this film, Dae Ho spends a lot of time to train up and finally becomes a pro wrestler, but what does he get at the end? (little spoiler here) He is still unable to beat his boss, he is still not respected by his dream girl, he still has to resume his job as a low level bank clerk. It is as if nothing has happened before. Life is still boring and hopeless as usual. The humors generated by Dae Ho is simply an act of self-mockery. The miserable ending of the film has transcended this film from a no-brainer comedy to a sympathetic parable. Instead of bringing joy and happiness to the audience, this film actually criticizes the no-brainer comedy genre severely. I have to say that Director J.W. Kim's use of cinematic language is really profound and precise.
Song Kang-Ho is a gifted and diligent actor. In this film, most of the stunt works are done by him. Yes, all those throwing and jabbing action of Dae Ho are performed by the man himself! This is real professionalism. After seeing his solemn face in Shiri, it is also a surprise to see his sense of humors in Foul King , the range of his acting ability is really broad. Jang Jin-Young, as the daugher of the wrestling coach, is impressive as well. I am not sure if she has done all the stunt work herself (It looks quite real to me though), her painstaking performance just gives me a very good impression.
Well, I know my "sorrowful nature of life" theory might bore many of you guys who are reading this review. Let me switch the focus a bit. In terms of the thematic elements of the film - wrestling, what I think is that there are too many wrestling scenes, and sadly to say, these scenes are generally too "professional", that it lacks spontaneity and twist at all. Maybe it is not the focus of the film, I also think that the relationship between Song Kang Ho and Jang Jin Young is too brief.
VCD (HK version) - One of the selling point of this film in Hong Kong is that the distributor invites Stephen Chiau to dub Dae Ho's voice in the Cantonese version. I tried to compare the Cantonese version with the original version by switching between the two audio tracks on and off during the film, and I noticed that Stephen Chiau does add a lot of dialogues for the film. I don't want to comment on the quality of this addition, I just think it is always good to see a film in its original language, because it is the only way to get the most out of it. Sadly to say, The Chinese subtitles are made directly from the deviated Cantonese dialogues, if you don't speak Korean, watching it in Cantonese or the original version is no difference. Because of this dialogue deficiency, I would recommend anyone who wants to see this film to get the DVD version.
Cool guy(s) - Song Kang-Ho
Reviewed by: Kantorates