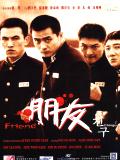 Friend
Rating: 8/10
Year: 2001
Genre: Drama
Director: Kwak Kyung-Taek
Cast: Yu Oh-Sung, Jang Dong-Gun, Seo Tae-Hwa, Jung Woon-Tak, Kim Bo-Kyung
As you might have heard, up to date, Friend is the highest grossed film in Korean film history. It is the most successful Korean film ever made. When it was exported to Hong Kong, the reaction of the audience, however, was not that consistently positive.
The plot of the story is quite simple, It follows the cliches of the same genre. Four friends grew up together in the 1970s and end up in different life paths. Joon-suk (Yu Oh-Sung) and Dong-su (Jang Dong-Gun) become gangsters while Sang-taek (Seo Tae-Hwa) and Joong-ho (Jung Woon-Tak) further their studies and enroll in college. Although they are leading a very different life, what is not changed is their life-long friendship, or is it?
To the Hong Kong audience, this plot certainly resembles so many gangster movies, with the most prominent example of Young and Dangerous. Having said that, does it mean this film is not worth to look at? From the rating I gave this film, you'll probably know the answer. Borrowing a term from independent filmmaker Rick Schmidt, this film is an "adult movie". By that I do not mean it contains pornographic or ultra violent materials, what I mean is that Kwak Kyung-Taek succeeds in showing us the complicated adult social interactions. It is a movie about the difficulties of a tough life. If you are looking for something that is filled with nudity, sex, car chase, or mood music melodrama, I am sorry, this is not the film you would like to see. The genunine emotions and personalities constructed by the director are what make this film a valuable viewing experience.
Director Kwak Kyung-Taek shows sympathy toward his characters. Unlike many gangster films in which the gangster protagonist is always praised and glorified, Joon-suk is totally different. What makes Joon-suk appealing is not his gangster background. It is all about his authentic human nature. He cares about his friends, he is aware of his own position and is able to provide his most sincere advice to his friend Sang-taek and prevent him from falling into the dark side. Dong-su is supposed to be the antagonist of this film. But he is not that evil. He will remember his childhood life with his buddies, he will heed Joon-suk's advice even though they belong to the opposing crime families. Kwak does not radicalize or develop his characters in an extreme manner. The characters appear so real and profound. It is the reason why we will feel so touching and really commiserate with the misfortunes of the characters.
The cinematography is surprisingly good. Although there are quite a number of violent scenes, the camera angles and the composition are brilliantly arranged. It results in many remarkable moments for the audience. For instance, in the funeral of Joon-suk's father, Dong-su says farewell to Joon-suk and steps into the dark. Explicitly, his exit indicates that he is going to join another crime family, while in a metophorical sense, his departure into the black also symbolizes that he is entering a dark path where there is no return.
Friend is an entertaining flick, and it is also a piece of art. Not too many filmmakers can maintain a balance between this two aspects of the film craft, but apparently Kwak Kyung-Taek knows the way.
DVD (HK version) - The picture quality, as well as the sound, are both very good, everything looks quite sharp. The extra music video is not the original Korean one but the chinese version performed by Patrick Tang, the song title is "Friend No. 2", which is not a bad song, however, it is not a full version of the song. What I dont like about this DVD is that there is no way to fastforward the Mega Star logo trailer in the beginning, and that trailer is pretty long, it is kinda annoying sometimes.
Reference: Schmidt, Rick. Feature Filmmaking at Used-Car Price. Penguin Books, 2000.
Cool guy(s) - Yu Oh-Sung, Jang Dong-Gun
Reviewed by: Kantorates