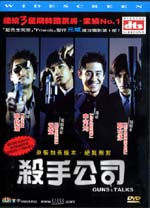 Guns and Talks
Rating: 7/10
Year: 2001
Genre: Action/Comedy
Director: Jang Jin
Cast: Shin Hyun-Joon, Jung Jae-Young, Shin Ha-Gyun, Won Bin
Guns and Talks opens modestly enough with viewers being encased in a blue-tinted setting -- a beginning not unusal of most cop-vs.-criminal thrillers that suggest without words the cold finality of the grave. Lives are always at stake in these action thrillers.
A female voice can be heard saying, "It's my first time. I don't know what to do. I just really want to kill a person." It's a catchy pitch for the opening shots of what looks to be a promising action-suspense story. There's nothing that hints to the absurdity of this movie except perhaps that the professional, hired hitman can be seen briefly wearing a pair of blue sneakers to match his entirely-black business suit.
From here on out, Jang Jin treats his audience to a hilarious, completely-original comedy about a quartet of male assassins for hire. The leader of these hitmen is Sang-yun, played by Shin Hyun-Joon (Bichunmoo). His accomplices include actors Jung Jae-Young, Shin Ha-Gyun and Won Bin We see them on their way about to execute a job. They're hired to eliminate four prominent businessmen, but cross roads with the police as the cops arrest one of their targets before they can make the kill. Sang-yun and his boys chase down the squad car and murder their target even as he is in the custody of authorities. This provokes the usual one-screwy-cop-chasing-down-the-bad-guys syndrome and Sang-yun and his crew embark on a misfit's journey where they run from the police and also try to get as much work done as possible.
The thrust of this movie certainly isn't the story or credibility of events. It puts all its muscle into showcasing an array of circus-freak characters and a handful of oddball business propositions by likeable, but disturbed clientele. Guns and Talks is never meant to be taken seriously. From its upbeat music to its eerie highschool student bent on seeing her English teacher dead, this is a movie for fun and kicks. It's worth the watch for its witty, rib-busting humor, endearing characters and original writing alone. The action sequences are the cherry on the top as the movie progresses through a firm structure of simplicity. There's no guessing, no surprise ending; just clean fun.
Jang Jin's characters take the time to contemplate the ways of their lives perhaps twice in the film, but ultimately disregard any conclusions about morality in place of money and because they probably don't know how to do anything else in life.
Reviewed by: TC