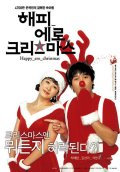 Happy Ero Christmas
Rating: 3/10
Year: 2003
Genre: Comedy
Director: Lee Geon-dong
Cast: Cha Tae-hyun, Kim Sun-ah, Park Young-gyu
"Cha Tae-hyun really needs a good agent to pick the right script for him." That's what I told my friend after viewing Happy Ero Chirstmas. After the outrageously disappointing Crazy First Love, Cha Tae-hyun's latest movie is another lackluster comedy that is hardly interesting.
Two years ago, My Sassy Girl had made Cha Tae-hyun a super star in Asia, and he was so careful of choosing his project afterwards. While his next project Lover's Concerto could still be considered a moderate success, stepping into 2003, he just seemed totally lost and didn't know what kind of movies he should do. Similar to Crazy First Love, his second movie of the year, which was also one of the last movies being released in South Korea in 2003, is a big disappointment. The story offers nothing new but sticks to the cliched formula of a triangular relationship romantic comedy. Cha Tae-hyun is a fledgling cop called Byung-gi, who has fallen in love at first sight with bowling center attendent Min-kyung (Kim Sun-ah). Just when he decides to take action, there comes his love enemy - a over-the-hill gang boss Suk-doo (Park Young-gyu), and the rest is something you could expect.
Although it is a comedy, there is hardly any moment that is genuinely humorous. The gags are so forced and the characters are so typical that they all fail to capture the attention of the audience. Cha Tae-hyun's Byung-gi is simply a replica of his role in My Sassy Girl, a mischievous yet benevolent young man who is doing all kinds of crazy things merely hoping to win the heart of his dream girl. Kim Sun-ah's character is quite vague, the story doesn't really depict her personality enough to make the audience love her. Another bad news is that, she is unattractive both in terms of her character and her appearance. Her dressing code is seriously conservative, and certainly, she also doesn't wear the sexy christmas dress as shown in the movie poster throughout the film! Character actor Park Young-gyu appears sombre in the movie. His acting approach is quite different from his previous comical roles (i.e. Attack the Gas Station).
Apart from the weak humors and the unattractive characters, what is ridiculous about this movie is its film title. Although it is called Happy Ero Christmas, the association with Christmas doesn' t seem to have any significance at all. The story can happen at Easter, New year or any other time without affecting the theme. Adding the word "Ero" to the film title is also misleading, as it is not a sex comedy like Sex is Zero or Wet Dreams at all. Besides two totally odd and detached sub-plots showing two guys talking nonsense and an old man making a porn video, nothing in the movie is related to sex.
Apparently, Happy Ero Christmas is just like any holiday movies that are made solely for the sake of the celebration of the festival. However, even in this regard, with the boring plot, it just doesn't seem to serve its purpose well. To me, the only thing about this movie that is appealing is porbably the eye-catching movie poster (and you are right, that is how I got lured to watch this flick!).
Reviewed by: Kantorates