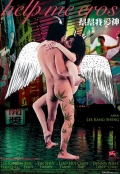 Help Me Eros
Rating: 7/10
Year: 2008
Genre: Drama
Director: Lee Kang-sheng
Cast: Lee Kang-sheng, Yin Shin, Jane Liao Hui-chun
Taiwanese director Tsai Ming-liang's regular actor Lee Kang-sheng started his own directing career with Missing in 2003. Although the film was well received by international film festivals, it was not until five years later in 2008, that he was able to make his second film Help Me Eros. Similar to Missing, which is half of a double bill with Tsai's Goodbye, Dragon Inn, Help Me Eros also reminds the audience of Tsai's The Wayward Cloud, which was released a year earlier. Both films feature a "spicy" female cast with tons of nude scenes, yet the story and the characters are not related at all (as compared to the co-related Missing and Goodbye Dragon Inn).
Help Me Eros is set in Kaohsiung, during the time after the financial crisis hit Asia. Our protagonist Ah Jie (Lee Kang-sheng) screws up his investment and loses huge money in the stock market. Failed to face the reality, Ah Jie spends most of his time hiding at home, smoking marijuna and calling a lifeline phone service. Through the service, he gets to know a operator named Chyi (Jane Liao Hui-chun), while building a sexual relationship with Shin (Yin Shin), a betal nuts and cigarettes salesgirl at a streek kiosk below his apartment...
While some may say Tsai Ming-liang's recent films are becoming more and more abstract, and he doesn't seem to care much about the Chinese market, what Peggy Chiao, one of the most important film critics and filmmakers from Taiwan, says about him in an interview is quite accurate, "Tsai is making films for his investors and their markets from Europe, and it just happens that their taste is dfferent from what the Chinese market needs." Whether one agrees with Chiao or not, it seems true that Tsai's recent films have been diverging further and further away from a realist world that Chinese viewers are familar with, and not to mention his strong resentment at the poor reception of his films in the Chinese market; Comparatively speaking, Lee Kang'sheng, despite inheriting Tsai's visual and narrative strategy, seems to care more about what is happening to our world (the same world we live in). Both of his two films attempt to depict the life of contemporary Taiwanese. Since they explore their pain and their pressure in a more concrete and easy to understand manner, these films are also more congenial to general audience.
Since his first film, Lee Kang-sheng has already showed that his visual style is strongly influenced by his master Tsao Ming-liang, who also worked as his production designer for Help Me Eros. It is perhaps a bit generalized to say that Lee's films are similar to Tsai's early films like Rebels of the Neon God and The River, especially when Lee definitely talks way more than he does in the sparsely dialogued Tsai's films, but the scrupulous observation and delicate capture of the city and her people do carry some resemblance. Take the aforementioned Tsai's films as example, although the protagonists are always reserved and introverted, they do maintain a very unique way of interaction with the cold and apathetic city they reside. Likewise, Lee's film is the same. For instance, Missing depicts an old woman hovering around the city of Taipei searching for her grandson. The camera acts like a distant observer and follows the old woman around, sometimes in hidden camera, and the result is a highly realistic and genuine document of the city. This time in Help Me Eros, perhaps there are fewer exterior scenes, audience can still feel the interaction between the character and the city landscape, while in Tsai's recent films, the two aspects are totally detached, the characters are confined to a smaller and smaller environment, and their minds are harder and harder to be comprehended. And this is the biggest difference that makes Lee's films distinct despite the physical resemblance to his mentor's works.
As described by the director, the script of Help Me Eros was adapted from his personal experience. He used to suffer from some strange disease in the 90s and lost a great amount of money in the stock market, therefore Ah Jie in a sense is more or less his alter-ego. That may also explain why he decided to play the role himself. What makes this script interesting is that Lee successfully links two subjects, eating and sex, together. As the Chinese proverb says, "eating and sex are the natural dispositions of human being", The characters in the film rely heavily on provocative activities of these two dispositions to release their loneliness and fear.
Talking about sex, the biggest selling point to most of the Chinese audience, there are quite a few controversial scenes featuring Lee Kang-sheng having sex with Yin Shin and several other girls. Lee demonstrates different sex position and it certainly looks like a extravagant sex show to some, but if you talk about the explicitness, it is probably nothing compared to The Wayward Cloud (yeah, I know Lee does show his thing, but still, with none of the main female cast showing their things too, it certainly hurts the appeal of the film a bit and weakens what it hoped to achieve). Nonetheless, most of the actresses have done well, especially Yin Shin, whose character seems to have a very strong interest in oral sex and doesn't mind sticking her head close to Lee's private part in most of the sex scenes. Compared to Yin, Jane Liao's role as the telephone operator is more challenging in terms of acting.
Filled with long takes and a shortage of visually slick editing, Help Me Eros feels much slower than it really is, and it is definitely not mainstream entertainment. Again, We all know Lee Kang-sheng is Tsai Ming-liang's apprentice, but Tsai's haters don't need to stay away. Despite sharing the same visual vocabulary, Lee Kang-sheng as a director did succeed in expressing his own voice and convincingly differentiate himself from his mentor.
Reviewed by: Kantorates