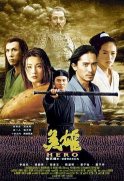 Hero
Rating: 7/10
Year: 2002
Genre: Wuxia
Director: Zhang Yimou
Cast: Jet Li, Zhang Ziyi, Tony Leung, Donnie Yen, Maggie Cheung
With a distant war at hand, a ruthless emperor and his massive armies are rising to strength. However, a hero rises to the fight and will stop at nothing. International action star Jet Li is a fearless warrior without a name on a mission of revenge for the massacre of his people.
Yes this sounds like every movie you have already seen before. It does sound like every action movie that involves good versus evil. Yes, yes movie lovers have heard and seen this before.
But it is not the story or the plot that takes this movie off its feet. Philosophical impressions are the tools best used to describe this visually captivating film.
Begin with the scenary. The colors, angles, and landscape give audiences a pure concept of what beauty can and will be. The scenes even suggest a possiblity that you will enjoy the film even if you put it on mute. Such uniqueness is unmeasurable. But it is highly suggested you do not put on mute because you will miss all the great sound effects that complete the fight scenes.
The cast is hands down excellent. Surround yourself with beautiful landscapes and carefully thought out scenes with this cast; and you'll have yourself a film worthy to stick in your memory. Each character brings their own talents and flaws that carry this movie into the themes.
Some fight for love, pride, or just plain heroism. A great many lessons are told in this film which many to most films forget to mention. Don't fool yourself, add this to your collection.
Cool guy(s) - Jet Li, Zhang Ziyi, Tony Leung, Donnie Yen
Reviewed by: Mike Vu