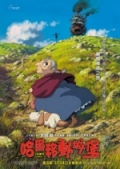 Howl's Moving Castle
Rating: 8/10
Year: 2004
Genre: Animation
Director: Hayao Miyazaki
Dubbing: Takuya Kimura, Akihiro Miwa, Chieko Baisho
Three years ago when Hayao Miyayaki's fans were still wondering if Spirited Away would mark the man's retirement, Miyazaki had already announced his next project Howl's Moving Castle right away. From the pre-production to post production, the project was highly anticipated by his supporters around the world. In 2004, the movie finally came out, and very fortunately, it was almost unanimously well received by both the audience and the critics.
Adapted from a British novel, the story of Howl's Moving Castle is set in the Middle Age Europe. Little seamstress Sophie is our protagonist. One day she enrages a mischievous witch by accident and is transfigured to an old woman. Out of strong fear, Sophie leaves her home and wanders aimlessly. Then she meets the young but powerful wizard Howl and his moving castle, and the two begin to form some kinds of romantic bond. However, Howl's life is endangered as his former teacher is threatening him to engage in the war… Same as any other Miyazaki animations, his unique visual style is very easily recognizable. No matter the character design or the music (by long time collaborator Joe Hisaishi), everything is very "Miyazaki". The setting should also look familiar to his fans, as it is not the first time a Miyazaki animation is set in Europe, some of his old works like Kiki's Delivery Service also feature a Europe background.
Perhaps we were so astounded by the epic scale (in terms of thematic approach) Princess Mononoke and Spirited Away, it isn't really easy to conform our mind to the this much smaller and personal story in the beginning. Despite having a chunky moving castle and various war fight scenes, the primary focus of this movie is instead placed on one single person only, that is, Sophie. The movie provides a very sophisticated and concrete construction of this character. Her emotions, her feeling and her romance with Howl are all depicted interestingly in depth. We, as the audience, are seeing the story from her point of view. Therefore, rather than lining it up together with Miyazaki's more ambitious works like Spirited Away or Laputa - Castle of the Sky, it just seems more appropriate to discuss it along with his light-hearted drama like Totoro or Kiki's Delivery Service.
In this film, Sophie's encounters are always humorous and entertaining. We can actually feel that this character is growing. In the beginning, she is so shocked and refuses to accept the truth that she has become an old woman, but later when she begins her little adventure and interaction with various persons, she just learns more and more. Throughout her adventure, she is changing constantly, which is also signified by her ever-changing appearance (Although she has become an old woman, one may notice that she sometimes looks very old, but sometimes not that old…). Compared to the profound character depiction, the usually apparent anti-war message in most of Miyazaki's recent works is less visible this time. By that I don't mean Miyazaki's point of view has changed, it is just that he has chosen a more indirect approach to bring out the message, which I think is a brilliant move as it allows more room for the audience to introspect. It is especially different from many other Japanese movies like Casshern or Steamboy in which the anti-war messages are usually presented in a very forced manner.
The performance of the dubbing (Japanese version) team is nice. Despite being harshly criticized by the critics, Takuya Kimura has actually done a more than satisfactory job as the lunatic yet susceptible Howl. The music by Joe Hisaishi is also as good as usual. Visually speaking, Miyazaki and his studio never seem to be running out of creative idea. Little surprises just pop up again and again, keeping the audience engaged throughout the movie.
Obviously, Howl's Moving Castle is not a milestone of Miyazaki's career. There is no big surprise and revolutionary change. Nevertheless, with its strong entertainment value and faithful "Miyazakiness", it is still a recommended film for all Miyazaki and animation fans.
Reviewed by: Kantorates