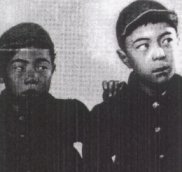 I Was Born, But...
Rating: 9/10
Year: 1932
Genre: Family (Silent)
Director: Yasujiro Ozu
Cast: Hideo Sugawara, Tomio Aoki, Tatsuo Saito
Yasujiro Ozu is a legend of film history. Up to date, none of any filmmakers in the world is able to compare with his unique approach in filmmaking. I Was Born, but... is his early film. It is a masterpiece that is always used as a teaching material for many cinema courses worldwide.
This film is another typical example of shomin-geki, "social comedies that concentrate on the daily lives and interpersonal relationships of the members of lower-middle-class families". In fact, according to this definition, I find it more suitable to categorize this film as shomin-geki than another Ozu's classic Story of Floating Weeds, since this film is more humorous and the story concentrates more on the daily lives of people, while the story of Story of Floating Weeds seems more dramatic and serious, the mood of the film is also more tragic and miserable.
The story of I Was Born, But... is about two young brothers who have become the leaders of the kids in the neighborhood. They discover that their father is making a fool of himself to please his boss and therefore they try to revolt against such acts. Later in the film, they find a resolve with their father.
To me, this film is a social satire that expresses Ozu's dissatisfaction with the system of bureaucracy. On the one hand, he shows deep sympathy toward the lower-middle-class families through the harsh encounter of the brothers, that is, how they witness their father being humiliated, how their father forces himself to act like a clown in order to please the boss; On the other hand, he also praises their effort. They are able to cope with hardship and go on with their lives through the final reconciliation between the father and the sons in the end.
In terms of cinematic techniques, this film is quite different from Ozu's other films. Ozu's signature like long takes and motionless shot are barely seen. The shots and the editing are generally fast-paced, the mood is not as heavy as Story of Floating Weeds. It contains more humors too. Except for the low eye-level camera angle which is a trademark of Ozu, I would say that this film is more "western" than his other films since the narrative style is similar to classical Hollywood narrative films. It is no wonder why this film is more welcome by Western audience than most of his other films. Ozu has successfully created an universal work for the audience of the whole world.
16mm US version - I have watched this film more than once. I don't remember if all of them are 16mm copies, but the general feelings are the same. Since it is a black and white silent film, you cannot ask for too much. Overall speaking, the image and title cards are bright and easy to read. There is no sound at all for this film. I know a benshi version is available, it has voice-over narration by Japanese benshi. If you understand Japanese, you might want to check out that version, but to me, a silent film is always best viewed in silent.
Cool guy(s) - Tomio Aoki
Reviewed by: Kantorates