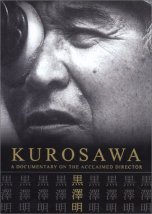 Kurosawa
Rating: 7/10
Year: 2001
Genre: Documentary
Director: Adam Low
Cast: Akira Kurosawa, Paul Scofield, Shinobu Hashimoto, Kon Ichikawa, Machiko Kyo, Tatsuya Nakadai, Teruyo Nogami, Isuzu Yamada
The title of this documentary Kurosawa - A Documentary of the Acclaimed Director is self-explanatory. Akira Kurosawa, one of the most important and brilliant directors in film history, has finally become the subject of a documentary.
This film provides a good chance for beginners to appreciate Akira Kurosawa and his works. It starts from Kurosawa's childhood life and ends in his last production Madadayo. It contains footage of his films like Rashomon, Seven Samurai, Red Beard and many more, together with invaluable interviews with the man himself, his life-long colleagues like screenwriter Shinobu Hashimoto, assistant Teruyo Nogami and actors like Tatsuya Nakadai and Isuzu Yamada, it succeeds in covering the highlight of Kurosawa's career briefly in about two hours. However, I am little disappointed that some of my favorite films like Stray Dog, Record of a Living Being and Hidden Fortress are not mentioned much, while films like Rashomon and Seven Samurai are covered in details. I guess the reason for this arrangement is because Rashomon and Seven Samurai are the most popular Kurosawa films among Western audience, the target audience of this documentary.
As a die-hard Kurosawa fan, I am also little disappointed with this documentary in certain ways. It fails to bring in any new information. Most information presented in the film is either too brief or too obvious. The film talks about most we already know, but hardly touch upon those we barely know. The choice of interviews is good, but I would expect more. For instance, only the Western actors (James Coburn, Clint Eastwood, etc...) are interviewed as opposed to the directors who are influenced by him. The missing of Toshiro Mifune is also a big regret. Although he is already gone when this film is produced, I think it would be nice to select some of the interivews he did before, just like the Kurosawa's interviews they put in the film. But I am glad to see that they include a 100 minutes bonus interviews in the film. The interviews are divided into about 10 sections, each section focuses on various parts of Kurosawa's career, how he worked with others and how his colleagues and admirers express their respect and appreciation, are covered. These interviews are the most valuable asset of this DVD, and they are also the most interesting part for hardcore Kurosawa fans since they compensate the lack of refreshment in the documentary.
Up to date, It may not be the perfect documentary about Akira Kurosawa, and it is not an in-depth study of the master, nevertheless, it is still a brilliantly produced work. If you are a Kurosawa fan, you will probably not miss that, on the other hand, even if you are not a fan, or that you want to learn more about Kurosawa, this is really a good fundamental lecture for you to start out.
DVD (US version) - The image and sound qualities are extremely well, considering that it is transferred from a Television program. The DVD contains chapter selection, 90 minutes bonus interviews (with chapter selection as well) and Web links.
Reviewed by: Kantorates