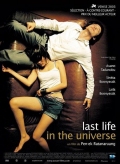 Last Life In The Universe
Rating: 8/10
Year: 2003
Genre: Drama
Director: Pen-Ek Ratanaruang
Cast: Tadanobu Asano, Sinitta Boonyasak, Laila Boonyasak, Yutaka Matsushige, Riki Takeuchi, Takashi Miike, Yoji Tanaka, Sakichi Sato, Thiti Rhumorn, Junko Nakazawa
If it is true that we communicate more with our bodies than words, than why do movies rely heavily on dialog? To a degree, you could say films are just boring without the ball being batted back and worth. But with the right moderation, the actions and choices in between words can have such more a dominant presence.
Last Life In The Universe isn't the most courageous film made, but it serves a great example of what a director can do with little. Although the main male character is somewhat of a downer because of his suicidal tendencies, through the director you feel a sense of connection and wish to see this character well.
The emotional curiosity that plays well in this film revolves around the central idea that male character, Japanese, lives in Bangkok and knows little Thai. He meets an offbeat Thai woman, who is the exact opposite in personality. She is lively, open, loud, crude, and very attractive.
When the two meet, the chemistry is forged when he witnesses the death of the Thai female's sister. Ironically, he was at the bridge to do just that, die by limping off the bridge.
The story moves to the Thai woman's house, where we learn the despair of loss. But the clean, polite, and cultural different Japanese finds solace in taking care of the messy Thai. He cleans, washes, and even folds her laundry. He has found purpose in the situation as well as in his life.
It's the in between moments that have a lasting impact on the character's environment. Through the characters we are shown the possibilities of a rich, playfulness, exciting, though quietly, exuberance of youth in a relationship.
The director's choice of action in characters, not words, is what delivers this film bravely. I recommend this film, but showing it during a get together isn't recommended. This one is for you or that special patient someone in your life that enjoys the little things. Enjoy.
Cool guy(s) - Tadanobu Asano, Sinitta Boonyasak
Reviewed by: Mike Vu