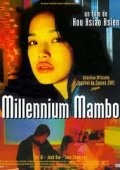 Millennium Mambo
Rating: 7/10
Year: 2001
Genre: Drama
Director: Hou Hsiao-hsien
Cast: Shu Qi, Jack Kao, Chun-hao Tuan, Yi-Hsuan Chen, Jun Takeuchi, Chen-er Niu, Pauline Chan
A Test Drive Into The Millennium Of Life
A mambo into a vast lonely, purposelessness darkness full of disheartened loose ends. The film is a portrait of life that exists outside of a movie theater: a finite abyss in the fast lane of the mundane. Where the quietness serves the unhappy solitude.
The story's message is for the finite human showing how finite we exceptionally are.
Yet through each frame, with its long takes and shots, the audience discovers the unwoven of undeveloped characters. A reflection of what drugs, clubbing, and quizzical romances can do and undo to one's spirit. Vicky, played by beautiful and darling Qi Shu (stars in Three Times and So Close) is a poster child image for the millennium. Fazed, hurt, but perhaps most of all, like many of this past decade, is in practice of an aimless life.
Director Hsiao-hsien Hou delivers a very slow paced (especially for westerners) feature. Much of it may feel like there is a lack of punch in it, but consider this as the film's intent. To show you how sometimes, life can feel long, unprocessed and sometimes, unwelcome.
The film's critical tone is a discussion of choice. The significance of how important it is the people we choose in our lives, but perhaps, rather, even more sufficiently great is the people we do not choose. Who by worthy of attention, choose us.
As the interaction unfolds, we see the abyss unravel and unveil life.
TO MAMBO OR NOT MAMBO
For the emotional, there is gaiety in stillness. Through odd relationships, Vicky's life is one where clear ethical boundaries are at lost. Her abusive boyfriend is like a dominant android, unknowing of reason but serves only its artificial intelligence.
We are all in sessions of therapy within ourselves. Our choices are flexible strings, but sometimes our connection to someone is too strong for our own good. Even if this means we are knowingly dancing to our last mambo, we must continue.
See Millennium Mambo.
Reviewed by: Mike Vu