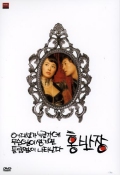 Mr. Handy
Rating: 7/10
Year: 2004
Genre: Romance
Director: Kang Suk-beom
Cast: Uhm Jung-hwa ﹑ Kim Joo-hyuk ﹑ Kim Ka-yeon
Perhaps if it is not because of the little anti-climactic ending, I would say Mr. Handy is one of the most enjoyable and comfortable romantic comedies I have seen in 2004.
Similar to any screwball comedies, the structure of this movie is very typical. The guy and the girl first get acquainted with each other through misunderestandings, then they become friends, and finally the relationship evolves to romance. Hye-jin, (Uhm Jung-hwa) a young dentist who is fired by the hospital, decides to move to the rural area to start her own clinic. There she gets to know this "Mr. handy" Hong Doo-shik (Kim Joo-hyuk), a snobbish yet capable man who seems to specialize in a lot of professions. Whenever Hye-jin is facing any problem, Doo-shik will be there to solve it. A troublemaker and a handy guy, the two should make a good couple, but then Doo-shik just keeps refusing to confess to Hye-jin, because...
While the overall story of the movie is quite cliched, most of the scenes are presented interestingly. One of the good things is that there is no more "comedy followed by tear-jerking romance" plot structure this time. This formula is totally abolished by the filmmaker. Unlike movies like Windstruck or Sex is Zero, in which the tone and the style of the first and second half are totally incongruous, The mood and pacing of the entire movie are quite consistent, no matter the gags or the romance, everything belongs to the same school. However, those expecting some hot performance from sexy idol Uhm Jung-hwa would probably feel disappointed, as the story is very healthy, there is no sex or naked scene at all, the most the couple do is simply a slight kiss.
Just as the movie title suggests, Hong Dong-shik, aka Mr. Handy, is the most impressive character in the movie. He is always available whenever someone is in trouble; He is skillful in almost every profession; He is a very dependable bodyguard too! What more can a girl ask for? But on the other hand, how is it possible to have such a person? Therefore, his omnipotence in some way does reflect the weakness of the movie. Perhaps it'll better satisfy our curiosity or make the story little more persuasive if the origin of his supreme ability is well unfolded in the end, but it's not the case. Throughout the movie we only know Dong-shik is invulnerable, but we are never told why he is so powerful, or how he is able to possess his ability. In fact, there are several parts in the middle that attempt to bring in some hints, but then all of these clues are left unanswered...
Uhm Jung-hwa, a successful pop singer and actress, is famous of her sexy image. However, as I mentioned above, she doesn't reveal any of her sex-appealing body in the movie, nor is she doing any intimate sex scenes. This time, her role is a conservative dentist who is pure and innocent, and quite surprisingly, her performance turns out to be much better than expected. Kim Ka-yeon as her assistant is also a good fit. Apart from his sometimes stony face, Kim Joo-hyuk pleasantly pulls off a good performance as Mr. handy.
Despite some plot flaws, like the vague depiction of Doo-shik's background, and the rather simplified relationship of the couple, Mr. Handy is an enjoyable light-hearted comedy, and it also offers a nice alternative for those who are tired of the "My Sassy Girl"'s style Korean comedies.
Cool guy(s) - Uhm Jung-hwa
Reviewed by: Kantorates