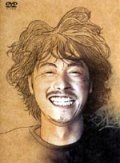 Mutt Boy
Rating: 7/10
Year: 2003
Genre: Drama
Director: Kwak Kyung-taek
Cast: Jung Woo-sung, Kim Kap-soo, Uhm Ji-won
Best know for his blockbuster Friend in 2001, director Kwak Kyung-taek has been maintaining a stable output of one movie per year. In 2002, he finished the heart-throbbing tragedy Champion, and this year in 2003, he came up with a light-hearted drama Mutt Boy.
Unlike the dark and poetic Friend and Champion, there is no intrigue or surprising conspiracy at all, nor is the protagonist a mighty superhero. On the contrary, the lead male is Chul-min (Jung Woo-sung), a stupid young man who is regarded as the "mutt boy" by his father (Kim Kap-soo) and his friends. Chul-min is a bum and he hangs out with a group of losers that are good at nothing but making troubles. One day, his father brings home an orphan girl Jung-ae (Uhm Ji-won), who will live with them. As Chul-min and Jung-ae stay together, they begin to form some kind of relationship. On the other hand, Chul-min's friend is beaten up by some gangsters, which inevitably prompts him to seek revenge... For you devoted Korean cinema fans, you may notice that the premise of this story, featuring a slacker who sucks in every aspect except fighting, does resemble Manner Zero a bit, but luckily, the approach of the filmmaker is quite different.
It is known that Kwak Kyung-taek's movies do not rely on provocative storyline to intensify the drama, it is rather the sophisticated depiction of the characters that builds up the tension and impresses the audience. In this film, again, with a little hackneyed plot that lacks climactic moments, what absorbs and moves the viewers emotionally is the delineation of the passionate interpersonal relationships, that is, the father and son attachment between Chul-min and his father and the friendship among Chul-min and his friends. At first glance, Chul-min and his father do not seem to live happily together. The death of Chul-min's mother is even indirectly related to Chul-min. However, Kwak employs a comical way to treat this supposedly antagonistic relationship, successfully turning it into a tender comedy that is filled with a caring heart. The same thing also happens to Chul-min and his friends. These loafers are impoverished and outcast of the society, but their attitudes are always optimistic. Compared to the miserable and desperate encounters of the characters in Friend and Champion, what we see in this film is the total opposite - hope.
Without a doubt, super star Jung Woo-sung is rather old to play the role of Chul-min. But luckily, his treatment of the role is so well that you can hardly spot any incongruity in this character. Employing a blatant and waggish style of acting, Jung brings life to his character, convincing the viewers that Chul-min is a mentally retarded yet benevolent kid. Kim Kap-soo as Chul-min's father and Uhm Ji-won as his girlfriend are also well portrayed. Although they do not appear for much time in the film, as it is almost Jung's one man show, their parts are just perfectly imposed. As a side note, Uhm Ji-won does resemble former SES member Eugene Kim a bit.
If you are looking for an intense action adventure movie or a big budget special effects extravaganza, Mutt Boy is probably not your choice. On the other hand, fans of quality cinema should definitely not miss this passionate light-hearted drama with rich and lovable characters that carry complex and genuine emotions.
Reviewed by: Kantorates