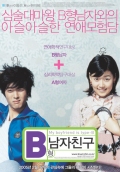 My Boyfriend is Type-B
Rating: 4/10
Year: 2005
Genre: Comedy
Director: Choi Seok-won
Cast: Lee Dong-gun, Han Ji-hye, Shin Yi
Predicting the reaction of the audience is always not an easy task. Take the recent Korean romantic comedy My Boyfriend is Type-B as an example, it is quite hard to believe that, despite its mediocre quality in all regards, it was still able to top the domestic box office and easily beat the highly controversial yet critically acclaimed The President's Last Bang.
The story of the movie is more or less expected. Ha-mi (Han Ji-hye) is a shy and passive girl who doesn't have a boyfriend. One day she comes across an arrogant and jobless young man called Young-bin (Lee Dong-gun), and they fall in love at first sight. However, Ha-mi's cousin (Shin Yi) believes that guys with the B blood type is irresponsible and selfish, and so she strongly urges Ha-mi to break up with Young-bin who happens to be a typical "Type-B" guy. Ha-mi is puzzled but she just loves Young-bin so much that she cannot give him up... The basic structure of this film is quite similar to the 2004 100 Days with Mr. Arrogant in which the bad boy is also pairing up with the submissive girl, and the overall flow of the narrative really lacks surprise, that you can easily tell what the next scene is going to be after you have seen one.
Apart from 100 Days with Mr. Arrogant, this film also reminds me of My Sweetie, a Hong Kong romantic comedy that correlates a paper thin "hair washing" theory with love relationship. Similar to that, the idea of corresponding love with blood type is also insubstantial. Perhaps if it is just a small gag in the movie, it would be funny, but if you try to reluctantly expand it to become the thematic element, it just seems to lack the persuasive power to interest the audience, especially with the cliched plot that offers no new insight at all. It is actually possible to replace the idea of blood type with anything else without affecting the narrative at all.
The biggest problem of this film is that the script was never fully developed. Not to mention all the plot holes, most of the characters are weak and not lovable. The success of a romantic comedy relies heavily on its characters. For instance, the reason why My Sassy Girl could win the heart of thousands of audiences is mainly because of the very effective depictions of its two unique and lively protagonists. However, in My Boyfriend is Type-B, you just couldn't find any endearing character. Young-bin is a bum that lacks any motives. His personality is vague and you don't really know what his goal is. Ha-mi is a cute and submissive girl, but the way she acts is simply hard to make you believe why she could have such a high tolerance for him. The way they maintain the relationship just doesn't feel plausible at all.
Due to the lack of characterizations, both of the leads fail to impress the audience. Nonetheless, the production team should definitely thank the cast. The box office success is without doubt attributed to Lee Dong-gun and Han Ji-hye since both of them are popular TV actors and have a very large fan base. Otherwise, with its insipid script and uninspired direction, this is just another My Sweetie that brings nothing but disappointment.
Reviewed by: Kantorates