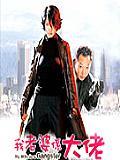 My Wife is a Gangster
Rating: 5/10
Year: 2001
Genre: Action/Comedy
Director: Cho Jin-Gu
Cast: Shin Eun-Kyung, Park Sang-Myun, Ahn Jae-Mo
The idea of a strong female protagonist and a weak male lead is not brand new or provocative. In Christmas in August, we have the active and passionate Darim (Shim Eun-Ha); in Foul King, there is a female wrestling expert (Jang Jin-Young). As the film title suggests, the dramatic quality of My Wife is a Gangster comes from the exaggeration of this gender displacement. Once again, as seen in some other films with a similar thematic element, what Cho Jin Gu does is to misplace the gender identity and maximize the conflict of the two genders. The result is a highly humorous comedy.
Eun-jin (Shin-Eun Kyung) is the head of a crime family. One day, her dying sister makes a request, she wants Eun-jin to get married. Eun-jin does not know how to satisfy her sister's wish since she has never thought of marriage before. At this time, Soo-il (Park Sang-Myun), a naive civil servant, comes in the way and becomes the husband of Eun-jin by accident. While Eun-jin and Soo-il are "enjoying" their honeymoon, they do not know that someone is making a plot to ovethrow her crime family...
This is a very commercial film. It has all the elements that make a film entertaining. Kung fu, sex, love, jokes and melodrama are all placed on the same dish. Considering the entertaining value, I can see why it is popular in Korea. But personally, I did not quite enjoy this film. Most of the fight scenes lack creativity. The action choreography is familiar to fans of Hong Kong or New Hollywood Kung Fu films, especially the black outfit of Eun-jin strongly reminds me of Trinity in The Matrix. The conflict between Eun-jin and Soo-il is also less maniacal and dramatic than I expected. The love plot between the supporting characters Ahn Jae Mo and his girlfriend is too brief, which I believe can be expanded a little bit.
There are a great many characters in this film. In addition to the main plot of Eun-jin and Soo-il, supporting characters like Ahn Jae Mo, The tin head guy, Ahn's girlfriend, Eun-jin's sister and Ahn's henchman (That guy looks really like Hong Kong pop singer Eason Chan) all share equal spotlights in the film. The director spends a great portion of the film to develop each character. But this is not a sitcom, it is only a 100mins~ feature length movie. Two problems arise from this extravagant cast. First, it weakens the main plot. Lead actor Soo-il's even has fewer appearance than Ahn Jae-Mo! Second, due to the time constraint, the depiction of each character is not impressive enough. It is hard for viewers to actually remember any single character firmly.
After reading many positive reviews on this movie, I guess I just had too high expectation. That might explain why I didn't quite enjoy this movie. Nevertheless, it certainly teaches me a lesson, that is, don't read too many reviews before you see a film, so that you won't develop the wrong expectation and end up in disappointment.
VCD (HK version) - Avoid the Cantonese version. The translation is extremely poor. The vulgarization of the dialogues has turned the film into a Wong Jing's style low class comedy. What makes me even more angry is that the Chinese subtitles are made directly from the deviated Cantonese dialogues. If you want to see this film in its best quality, get the Korean version DVD or ignore the Chinese subtitles on the HK version.
Cool guy(s) - Shin Eun-Kyung
Reviewed by: Kantorates