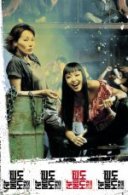 No Blood No Tears
Rating: 8/10
Year: 2002
Genre: Action
Director: Ryu Seung-Wan
Cast: Jeon Do-Yeon, Lee Hye-Yeong, Jeong Jae-Yeong, Shin Goo
No Blood No Tears is the second work of Ryu Seung Wan, a promising new director in Korea. Because of his energetic and innovative directorial approach, he was once regarded as the "Korean Tarantino". As a beloved director, he was given maximum support for his second project from various sources, including the active participation of Jeon Do-Yeon, one of the most popular actresses in Korea.
This is a typical gangster story depicted in a non-typical manner. Kyeong-seon (Lee Hye-Yeong), a female cab driver, is involved in a gangster affair. In connection with it are Dok-bul (Jeong Jae-Yeong), a former boxer who is now a middle-ranked gangster, and his girlfriend Su-ji (Jeon Do-Yeon). Su-ji is treated harshly by Dok-nul, that she has made up her mind to get rid of him by cooperating with Kyeong-seon. They don't know that their plot will become uncontrollable...
This film is intimate to Hong Kong audience. The action choreography shows strong influence of Jackie Chan's movies. Some of the characters, for instance, the bodyguard of the old man, resemble the villains in Chan's movies as well. As Ryu Seung-Wan revealed in an interview (check our interview section), he was strongly influenced by Hong Kong movies during his teenage years. Films like Jackie Chan's Project A and John Woo or even King Hu's films are all his favorite. In addition, you could also notice the black humor in this film, which is probably inspired by Quetin Tarantino's works. As a devoted audience of Hong Kong cinema, I often hear how a Hong Kong filmmaker is inspired by Hollywood films, it is rare and interesting to see how a Korean director is influenced by Hong Kong cinema.
For non-Jackie Chan's fans, don't worry, Ryu did not copy Chan's style wholeheartedly. Instead of imitating the structure or narrative, Ryu merely captures the spirit of Chan's films. To me, if I have to relate them together, I would say No Blood No Tears is a bloody and ultra-violent version of Jackie Chan's films. Unlike the "healthy" action scenes in Chan's films in which no blood is spilt at all, all the fight scenes in this film are full of blood. It is quite ironic since the title of this film says "no blood".
Lee Hye-Yeong is a veteran actress who has been in the business for more than twenty years. As compared to the glamorous Jeon Do-Yeon, her performance is actually more convincing and captivating. Dok-bul is the first lead role for Jeong Jae-Yeong, who is in various films before like Guns & Talks in which he is always a supporting actor. This time, his talent is allowed to be fully exhibited.
No Blood No Tears is a pure entertaining flick. It is not the kind of films that contain heavy message or profound metaphors. Perhaps it does not have a very strong and intact narrative, perhaps the depiction of the emotions of the characters is not very impressive, nevertheless, the vigorous and innovative cinematic style of the director is still able to keep you fully engaged in this totally insane and colorful diegesis.
Cool guy(s) - Lee Hye Yeong
Reviewed by: Kantorates