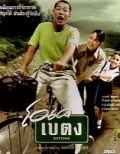 OK Baytong
Rating: 9/10
Year: 2003
Genre: Drama
Director: Nonzee Nimibutr
Cast: Puwarit Poompuang, Jeeranum Manojam
(Possible spoiler below)
Backed by a strong production team, Nonzee Nimibutr's Ok Baytong comes back strongly after his previous failure in Three (2002) as another shift in cinematic exploration of Thai culture and society. The movie is greatly endorsed by a team of veteran and talented people, for example, the cinematographer Chankit Chumnijwikaipong (??Monrak Transistor, assistant director Cherdpong Laoyon (also in ??Monrak Transistor and Last Life in the Universe, art director Ek lam-chuen, and Nonzee's close friend-cum-business-partner Pen-ek Rattanaruang in film editing. In an interview with The Nation, Nonzee comments that the ????self??that once appeared in the movie largely disappeared after Pen-ek's editing. Viewed in this way, OK Baytong has come to become a product of joint collaboration.
The story of the movie is no less intriguing yet universal in these days. A young Buddhist monk once day learns that his elder sister has been killed in a bomb blast during a back home train journey in Southern Thailand. As a young man who knows nothing about the secular world, Tham has to travel to Baytong to take care of his little niece. Nonzee's story thus touches one of the most commonly felt concerned issue in contemporary world: how to keep the survived family members going steady after terrorist attacks? But in Nonzee's case, OK Baytong hides an additional theme: the coming topsy-turvy life transformation of a monk in secular Thai society.
Nonzee's story idea comes after learning about his friend, Ek Lam-chuen and his temporary monkhood. Questions suddenly come to his mind: what would happen to a young monk after one of his family members has been killed by terrorists and he has to take up the responsibility of guardianship of the infant nephew/niece? What can Buddhist teachings and trainings help a young monk to cope with such changes? And, ultimately, what can a Buddhist monk learn from a secular society? These are big questions and no easy answers can be found to every Thai. The wonderful thing about Nonzee and OK Baytong is that the director succeeds in giving us a freshly perceived approach that is realistic enough and no less cold-blooded to scare the warm-hearted audiences away.
In any sense, Nonzee is not deterred by the established Thai conservatism towards sex in movies and sexuality comes to the fore in the first important scene when Tham, prohibited by Buddhist religious ritual to touch female body, turns away from his little niece when what the latter needs most is simply a big hug from her close family members. This desire to get the emotional bonding becomes self-evident once Tham announces his abandonment of monkhood and his niece, Maria, embraces him with the greatest effort and a desire of reciprocation from her uncle. These two scenes are gut-wrenching and yet they are played out in a natural way that you would feel bitterly sorry for Maria in the first scene and a great relief in the second scene. Yes, these are small things, but they are constructed in a meticulous way as a critical comment on the hypocritical attitude of Thai Buddhist monkhood.
The great contrast between Buddhist sexual evasion and the constant flux of sexual temptation becomes evident once Tham finds out that his elder sister was actually a beauty salon owner and she also hires a number of part-time bar girls. Matter becomes worse when Tham begins to fall in love with a local girl who happens to be dating with a local Muslim. Tham is now confronted with confused feelings and sexual longings. All these occur in no unrealistic dramatic setting.
The social life of Baytong in Southern Thailand is not lost in Nonzee's movie, especially the more complicated ethnic issues between local Buddhists and local Muslims. Actually, Southern Thailand is the place where the majority of Thai Muslims reside. Later in the movie, we come to learn why Maria's father does not pick her up after the death of her mother. It is because her parents have already divorced each other a few years back and Maria happens to have a Muslim father and a Buddhist mother. Nonzee is shrewd enough to draw us deeper into this real-life portrait by giving us highly authentic social settings against a potentially unstable situation of Buddhist-Muslim conflict in the area. He says in a 2003 interview that religious topics are sensitive and can attract more conflict than agreement. Therefore, he prefers to portray such stories through the unique characteristics of ordinary people. The message is clear: Thai Buddhists and Thai Muslims have been marrying each other for a long time and the more recent outbreak of ethnic conflicts should in no way hamper the long-existing social and cultural harmony between the two groups.
OK Baytong has that magical touch to be both entertaining and illuminating. The location of Baytong is modernizing but it is in no way a place and city such as to be found in Bangkok. The area is still in its mid-way of modernization. Cell phones are used for communication but by no means everyone can afford to purchase one. Tham's residue business includes renting cell phones to local people for quick communication. In reality, such a business allows Tham to deal with different kinds of customers and local people. It provides strikingly different experiences the young monk can find in his secluded temple.
A great movie allows one to think back particular scenes, monologues, and dialogues as well as to reflect on one's behaviour and thinking. The Buddhist thinking of keeping out troubles and temptations may be, in Nonzee's mind, meaningless because a religion is always a part of the society. Tham??s story tells us that one should better be prepared to accept things as changing and not as it is or ought not to be.
In the end, Tham comes out well integrated into society as he learns the skills of driving a bicycle, that is, of anchoring well and making good use of his judgement to control the speed and direction of his life path. The scene where Tham is trying hard to learn to drive the bicycle echoes full well a similar scene in Junji Sakamoto??s ??Face??when the lead actress again has to learn to drive a bicycle after long years of seclusion at home. Thus, ??OK corresponds to Tham's own recognition of his responsibility and his decision to stay in Ok Bay tong, that is, a secular world, without anxiety and uncertainty.
Cool guy(s) - Puwarit Poompuang
Reviewed by: Sebastian Tse