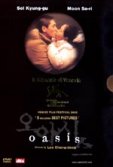 Oasis
Rating: 8/10
Year: 2002
Genre: Drama
Director: Lee Chang-Dong
Cast: Sol Kyung-Gu, Moon So-Ri, Ryu Seung-Wan
Oasis, along with Sympathy for Mr. Vengeance and Chihwaseon, is one of the most anticipated Korean films in 2002. It won four awards at the Venice Film Festival and the lead actress Moon So-Ri is the winner of this year's Blue Dragon new actress award.
For the general audience, the focus of this movie is usually the cast, with Sol Kyung-Gu as a young man who is just released from jail and is considered a shame by the family, and Moon So-Ri as a physically handicapped girl who is suffering from serious cramp. Jong-Du (Sol Kyung-Gu) comes across Gong-Ju (Moon So-Ri) in an unexpected encounter and he soon forms a strange kind of affection for her. Without the awareness of their families, a clandestine love relationship gradually develops between the two of them... A bizarre love relationship is actually not a very explosive subject, early in this year, Kim Gi-Duk's Bad Guy has already demonstrated the power of sadistic love. Nevertheless, director Lee Chang-Dong's approach is very different from Kim Gi-Duk. He is not an exotic and surrealistic stylist, his style leans more towards the realist school in which a solid and realistic drama structure is stressed.
The two protagonists in this film are very similar, both of them are disabled in a certain way and fail to live in this society without the assistance of other people. Jong-Du is unable to find a good job because of his criminal record and his laziness; Gong-Ju is suffering from cramp that prohibits her from leading a normal life (But she is not mentally handicapped). At first glance, it seems that the director is apathetic for setting up such a forced tragedy, but if you look closely, you will begin to realize that Lee Chang-Dong does actually show genuine emotions towards the characters he designed (He also wrote the script of this movie). His intention of telling this story is to fight for these minorities of the society rather than to tease or ridicule them. The humanitarian attitude of the story should remind you of Japanese master Akira Kurosawa's movies like Red Beard and Dodesukaden. Gong-Ju's tragedy is, to a certain extent, the fault of her ignorant brother. Her brother does not care about her at all. After he is assigned an apartment for the disabled, he leaves her in their dilapidated and shabby apartment and only visits her once a while. That's why he doesn't know Gong-Ju is dating Jong-Du and finally leads to the tragic ending... Jong-Du an Gong-Ju are also discriminated from places to places in the movie. What is introspective is that, their harsh encounters throughout the film are not blatantly performed at all, it is instead a very authentic capture of what is happening around our life in this society every day.
It is no wonder why Sol Kyung-Gu is regarded as the most popular actor in Korea right now. His range and acting ability is so diverse that, in the beginning of the year, you still saw his balloon face in Public Enemy, and in this film, he quickly lost more than 30 pounds and transformed himself into an underweighted young man, and in both movies his roles are equally attractive and impressive. Moon So-Ri as the disabled girl is also flawless. I especially like the several scenes in which she acts like a normal girl and has some funny moments with Jong-Du. These scenes are probably her imagination. The only thing I don't like is that the director sometimes spends too much time to capture her seemingly meaningless gesture, which slows down the pace of the movie a lot.
Oasis is a very solid drama that reflects reality in an honest manner. For the minority groups like Gong-Ju and Jong-Du, living in this harsh society is just like being trapped in a hot desert. To find happiness in their life is equal to the odd of finding an oasis in the desert...
Cool guy(s) - Sol Kyung-Gu, Moon So-Ri
Reviewed by: Kantorates