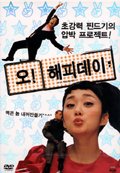 Oh! Happy Day
Rating: 6/10
Year: 2003
Genre: Comedy
Director: Yoon Hak-yeol
Cast: Jang Nara, Park Jung-chul, Jang Hang-sun
Best known as the Korean version of Miriam Yeung to Hong Kong audience, Korean new face Jang Nara enjoys a successful TV acting and singing career at a really young age. Her debut on the big screen, Oh! Happy Day, is a light-hearted romantic comedy specially tailored for her outgoing and vigorous star image.
Employing the unbeaten My Sassy Girl formula, this is a screwball comedy about a girl courting a man. Jang Nara plays an aggressive dubbing artist named Hee-jee. One day, she comes across the manager of a company called Hyun-jun and falls in love with him at first sight. She then tries her best to win Hyun-jun's heart. Finally, they become a couple, but... Similar to most of the post-My Sassy Girl romantic comedies, a lot of laughters are placed in the first part of the movie, while the latter part aims at generating tears and touching the heart of the audience. A strong female and weak male conception is also clearly visible. Most of female characters in this film, from Hee-jee to her mother, are the dominating class in their respective communities, while the male, from Hyun-jun to Hee-jee's father, are either too weak or gullible in front of the girls.
One of the most remarkable moments in this film is probably the scene when Hee-jee sneaks into Hyun-jun's house in the beginning. When Hee-jee is searching the house without Hyun-jun's permission, she doesn't expect him to suddenly return home. Hee-jee then hides behind the curtain and peeks inside. There Hyun-jun, without noticing Hee-jee's presence, takes off all his clothes and begins to work out in the living room. Hee-jee is shocked by what she sees. Without doubt, it is a humorous scene that is extremely funny, but what is more important is that, this scene serves as an excellent example that overthrows the traditional preference of sexuality in film, in which women is usually labelled as the erotic object of male gaze. The relationship of male and female is totally subverted as the female takes up the role of the bearer of the look, while the male becomes a glamorous and sexualized image on display. In these few years, there are quite a lot of romantic comedies featuring a "weak male strong female" duo, but few of them are able to go as far as Yoon Hak-yeol did in this film. With a shift of their sexual characteristics, Hee-jee becomes the one predominating the relationship throughout the film. She is fully aware of Hyun-jun's schedule and she sets him up at the end, while Hyun-jun is ridiculed over and over again and has no power at all.
Among most of the Korean actresses nowadays, Jang Nara belongs to the minority (along with Kim Ha-neul as in My Tutor Friend) who doesn't mind to uglify herself to fit her role. In this film, Jang plays a nervy young girl convincingly with her blatant facial expressions and gestures. If you think my review is rather obscure, just look at Miriam Yeung or Charlene Choi in any of their comedies and you'll get what I mean, as they are basically sharing the same acting style. Lead male Park Jung-chul has done a nice job, but there is no way for him to steal the spotlight from the dazzling Jang Nara.
Oh! Happy Day is a qualified light-hearted comedy that succeeds in delivering some entertaining moments and generating moderate laughters here and there. But don't expect anything provocative or innovative. As for fans of Jang Nara, with Jang's engaging performance, it is definitely worth the ticket.
Cool guy(s) - Jang Nara
Reviewed by: Kantorates