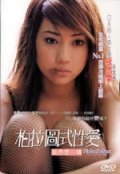 Platonic Sex
Rating: 7/10
Year: 2001
Genre: Drama
Director: Masako Matsuura
Cast: Saki Kagami, Joe Odagiri, Maho Nonami, Hiroshi Abe, Taishu Kase
With the widely distribution of her photo albums and porn films in the 1990s, Ai Iijima has probably already become a household name all over Asia. Even if you haven't seen her face before, you should have at least listened to her name. A few years ago, Iijima retired from her porn star career and wrote an autobiography. This book, which is called Platonic Sex, became one of the bestseller titles in Japan, as well as other regions like Korea, Taiwan and Hong Kong. Its success has led to a filmic adaptation. Not a surprise to anyone, this film was well received at the box office.
Although Ai Iijima did take part in various stages of the production, which includes but not limited to casting and original story provision, this movie is actually not a 100% faithful adaptation of the novel. A great number of the scenes are trimmed and modified in order to fit the theme and the character development. Aoi (Saki Kagami)'s life begins to deteroriate after she was raped by her friends and then scolded by her parents. She leaves her home as a result, and soon she is recruited by a pimp and becomes a hostess in a night club. Later she breaks into the porn industry. Her destiny is intertwined with three men, her boyfriend Toshi (Joe Odagiri), self- proclaimed philanthropist Ishikawa (Hiroshi Abe) and her agent Kanai (Taishu Kase). Aoi's life is filled with misery. Her encounter is like the worst shit happened to a girl you could imagine. But this is not it. This movie is not aimed at depicting how sorrowful her life is. On the contrary, her life is rather used as a negative model to inspire the youth. It is intended to remind young people not to forget who exactly they are and not to give up their life. The audience should be able to feel this theme from the evolution of the character. In the end of the film, when Aoi walks to the roof of the building, which is similar to what she is doing in the opening scene, she is in fact totally revitalized. Both her mind and her behavior are transcended, she is in no way the same as before anymore.
Despite the notorious reputation of Ai Iijima and the sexy poster with Saki Kagami dressed in lingerie, this is actually a very solid and concrete drama. The director credibly demonstrates her proficiency in the cinematic language. The script, as well as the cinematography, are extraordinarily delicate. Although the story is quite straightforward and cliche-ridden, it nevertheless succeeds in moving the audience, this is especially notable in the final scene at the morgue. The dialogues are well composed too. Some of the repetitve dialogues carry multiple meanings that require the audience to contemplate, hence greatly enrich the narrative. Last but not least, careful planning of cinematography also enhances the artistic value of the movie. For instance, cast shadow and on and off lighting are used to reflect the emotions of the characters.
New actress Saki Kagami was personally chosen by Ai Iijima to play her role. In addition to her physical resemblance with Iijima, I think one of the most important reasons she was picked is her accurate delivery of gestures. Her eyes can truly act! It is this instinct of an actor that makes her stand out. Joe Odagiri and Hiroshi Abe are also impressive.
Platonic Sex is an enlightening piece of work. If the name of Ai Iijima makes you think of porn and discourages you from seeing it, I would like to correct your misconception here. This is not a porn film, nor is it intended to promote pornography. As I have said above, it is instead a sophisticated drama with a positive message to convey. If you are looking for something to think, this one should fill the bill.
Cool guy(s) - Saki Kagami
Reviewed by: Kantorates