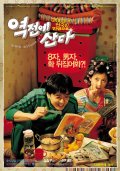 Reversal of Fortune
Rating: 7/10
Year: 2003
Genre: Comedy
Director: Park Yong-woon
Cast: Kim Seung-woo, Ha Ji-won, Kang Sung-jin, Ko Ho-kyung
If you woke up and found out that you' re no longer the same person you used to be, what would happen? Based on such a premise, Reversal of Fortune is a rhapsody that features popular actors Kim Seung-woo and Ha Ji-won.
Despite an English movie title that is identical to a Hollywood film in the 1990s, the story of this film actually seems to show more influence of Hollywood classic It's a Wonderful Life and the 2000 The Family Man. Kim Seung-woo plays a former junior golf champion (Seung-wan) who works in a securities firm. His life is a total failure. However, a strange accident brings him to another dimension where he is a renowned golf champion. He also finds out that he has a wife Ji-young (Ha Ji-won) in this altered reality... As a first time effort, director Park Yong-woon's execution is satisfactory. Thanks to the fruitful script, the flow of the film is quite fast-paced and never makes you feel bored. Although the plot structure and the story are not too inventive, it is nevertheless entertaining enough to keep the viewers engaged.
As a crazy comedy, the gags in this movie are actually not too nonsensical. The focus is rather the relationships of the characters, by that I mean the love affairs between Seung-wan and Ji-young, the father and son relationship between Seung-wan and his father, and the friendship between Seung-wan and Dai-shik (Kang Sung-jin). The sophisticated depictions of these interpersonal relationships are really surprising as I honestly didn't expect this level of passion in such a comedy. In addition, the filmmakers also tried to teach a lesson by posing questions through the story, for instance, would your life be happy if you've won everything but lost your relatives and friends?
Kim Seung-woo's peculiar sense of humor makes him an excellent candidate for the role of Seung-wan. It is Kim's show time as this dumb character, which is similar to his previous role in Break Out, is the focus of the film that steals the spotlight. The only flaw is that Kim's appearance seems little mature to pair with the young and energetic Ha Ji-won. Popular actress Ha Ji-won (Phone, Sex is Zero) plays a character that is less interesting but her fans need not to worry as she still looks extremely glamorous and gorgeous in the film.
Reversal of Fortune is a successful commercial comedy that demonstrates professionalism in every aspect of production including directing, screenwriting and acting. However, the plot is quite cliche-ridden and it lacks new ideas to attract the audience. That may explain why this film didn't seem to arouse too much attention when it was released.
Reviewed by: Kantorates