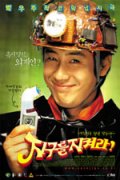 Save the Green Planet
Rating: 9/10
Year: 2003
Genre: Sci-Fi
Director: Jang Jun-hwan
Cast: Shin Ha-kyun, Baek Yoon-shik, Hwang Jung-min
Before I wrote this review, my conclusion about the first season of Korean cinema in 2003 would be something like this: Similar to last year, romance, comedy and action are still the dominating genres in Korean cinema in 2003. Most of the films I have seen so far more or less fall under those categories and lack surprise. But I guess this statement should be justified after I have seen Save the Green Planet...
The story of this movie is compelling. Byung-goo (Shin Ha-kyun) is a firm believer of extra-terrestrial. He believes that aliens are going to invade our planet, and Kang Man-shik (Baek Yoon-shik) is an alien disguised as the CEO of a chemical corporation. He kidnaps Kang and forces him to contact the aliens to stop the invasion... At first glance, with the crazy storyline and the promotional posters featuring a smiling Shin Ha-kyun, many people would expect it to be a nonsensical comedy, but the truth is just the opposite. This is a very dark movie that is filled with despair. Byung-goo is definitely a tragic character. His insanity is not supposed to be derived from any humorous factor, but is strongly related to his sorrowful background. The depiction of this character is much deeper and poignant than I expected. Although Byung-goo has done a lot of crazy and sadistic thing to Kang Man-shik, audience probably would not find him annoying, but rather sympathsize with him. Shin Ha-kyun's portrayal as Byung-goo is top notch, and it is without doubt his best performance since Sympathy for Mr. Vengeance.
New director Jang Jun-hwan has successfully exhibited his talent in storytelling, composition and editing in this film. The story is exceptionally rich and contains elements of sci-fi, action, love, family, detective thriller and suspense. Each of these elements is calculated precisely that greatly enhances the dramatic quality of the movie. Apart from the slightly prolonged torture scene in the middle, the whole film is quite entertaining and keeps the audience fully engaged even though it is two hours long. The editing is also provocative. For instance, the fast paced opening credit is visually stunning. Again, following Over the Rainbow (2002) , old Hollywood movie song Over the Rainbow is being used in a Korean film as the theme.
In terms of the subject matter, this film seems to suggest that human being, instead of alien, is the one guilty of contaminating the Earth. Byung-goo's accusation against the alien can merely be seen as a coward behavior to shun responsibilty. From his tragic past and Kang Man-shik's retrospection of our civilization, the theme is pointed out decisively - human being is ruthless and has been destroying and polluting the Earth again and again!
It is a pity to hear that this movie did not do very well at the box office in Korea. Perhaps it is because the mood is too cold and the ending is too pessmistic, it didn't attract too many audiences. Nevertheless, compared with many mediocre but box officer winners like My Tutor Friend, Save the Green Planet is certainly superior in terms of creativity and fun factor. It is highly recommended to fans of cult film!
Cool guy(s) - Shin Ha-kyun
Reviewed by: Kantorates