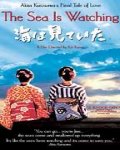 Sea is Watching, The
Rating: 7/10
Year: 2002
Genre: Drama
Director: Kei Kumai
Cast: Misa Shimizu, Nagiko Tono, Masatoshi Nagase, Hidetaka Yoshioka
The Sea is Watching, directed by Kei Kumai, hit the theater in Japan in July 2002. Obviously, Kei Kumai is not the reason that has caught the attention of the distributor in the US. The international release was indeed prompted by the fact that it's the last film Akira Kurosawa was involved.
Early in 1993, when Kurosawa was still working on Madadayo, he had already started to conceive the idea of making a movie about geisha. As of 1998, the script was finished. Pre-production was getting right on track. Some of the storyboards had been painted by Kurosawa. However, everything came to a halt when Kurosawa died in September that year. Then after the period of grief, his son and daughter decided to carry on the project, and at last, they have found veteran director Kei Kumai to direct. The movie was finally released in July 2002.
Adapted from novels, just as many of Kurosawa's classic movies, the origin of the story comes from Shugoro Yamamoto's two short pieces. Oshin (Nagiko Tono) is a young and passionate geisha who always falls in love with her clients. The story mainly revolves around her encounters with two of these clients who have changed her life. As the lead credited cast, Misa Shimizu plays another geisha called Kikuno, she is a close friend of Oshin and teaches her a lot. The two of them manage to get through hardships together. What makes this film special is without doubt Kurosawa's rare concern on women. Since No Regret For Our Youth, Kurosawa barely positioned a woman character as the focus of his movies. That might explain why he was so interested and aroused to this project, as it was something he had not done for ages.
Technically speaking, it is a splendid picture. The cinematography is top notch, colors are well tuned to bring out the contrast well. Everything from the a small prop to the beautiful geisha costumes are well designed, high standard of visual quality is guaranteed. Moreover, some of the scenes are shot from Kurosawa's storyboards, and so even though it was not directed by the man himself, some of his trademarks are still visible.
Story-wise, it is actually not that appealing. It is definitely not funny to see a group of low class yet benevolent women trying to sacrifice themselves for some losers (or at least guys who look like they have serious problems). Although it is apparent that Kurosawa's intention was not to depict how stupid these women are, but rather to display their virtue and chastity, as a similar theme was demonstrated before in Red Beard (also adapted from Shugoro Yamamoto's novel) and Dodesukaden, it still seems less persuasive since the story is quite unrealistic and obsolete. Unlike Kurosawa's classic movies, this geisha story fails to reflect contemporary social perspectives at all. That may explain why the movie was not that much welcome by the youth in Japan.
Although the story is less captivating than the master's usual efforts, as his last film (or work in progress), The Sea is Watching is still worth a look. However, since the movie was not directed by Kurosawa, and we also don't know how much changes Kei Kumai and his collaborators have made to the original script, you should not expect it to look exactly like a Kurosawa's movie. Bear that in mind and you'll probably enjoy it more.
Reviewed by: Kantorates