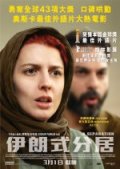 Separation, A
Rating: 9/10
Year: 2011
Genre: Drama
Director: Asghar Farhadi
Cast: Peyman Maadi, Leila Hatami
The Audience as Judges
A Separation is a multi-layered, well-acted and engaging drama about the complexity of human morality. Most movies rely heavily on music to evoke emotion, yet A Separation, with only one piece of music in the end credits, is compelling owing to its realism and a spate of moral dilemmas. We, the audience, are forced to serve as judges from beginning to end. (Please note the first scene in which we look at the couple talking to a judge.) Should we leave behind the father with Alzheimer's disease? Are there any circumstances in which lies are morally acceptable? Is it appropriate for parents to encourage their children to lie? Should a teacher shy away from telling the truth? Are there any problems when we behave purely in conformity with our religion? Has justice been done in Iran? As for the maid's miscarriage, whose fault is it? Herself because of her negligence? Her husband who owes people money? Her employer who allows a pregnant woman to work as a maid?
Upon the outburst of the daughter's pent-up emotions, a tear rolled down my cheek. She is just a little girl whose parents separate, whose grandfather is sick, whose father is charged with murder, whose schoolmates gossip about her, whose life is threatened. She has tried to unite her family members, whereas she bursts into tears because of her father's stubbornness, which can be interpreted as Iran's conservative regime telling ties to cover its scandals and controlling its people with the use of religion. Her sadness is heartfelt because of the three-dimensional character.
The movie is well cast and well acted. Honorable mention goes to Ali-Asghar Shahbazi, Nader's father in the film. Although he is not a trained actor, he gives a very convincing performance. The two daughters, who act naturally, also elicit great sympathy from the audience.
Anyway, I highly recommend this beautiful Iran movie to all of you. It will be one of my top five movies in 2012.
Spoiler Warning: Please note that the three family members also wear black at the end, which implies the death of the grandfather. However, the gap between Nader and his wife widens, which leads to the final scene.
Reviewed by: Kenji Chan