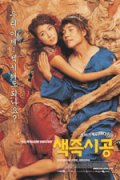 Sex is Zero
Rating: 7/10
Year: 2002
Genre: Comedy
Director: Yoo Je-kyun
Cast: Ha Ji-won, Im Chang-jung, Jin Jae-young, Jung Min
Continuing the success of My Boss My Hero in 2001, Yoo Je-kyun's latest film Sex is Zero was a big hit in Korea and ended up being the third highest grossed domestic film in 2002.
In 2002, for a reason that was unknown to outsiders, it seems that all of a sudden, sex comedy has become the most belovable genre for Korean audience. Sex is Zero is the latest product of this trend. Identical to its counterparts, this film focuses on the love affairs of the youth, with a heavy and exaggerrated emphasis on their sex life. Humors derive mainly from the characters' bombastic and over-passionate attitude toward sex. Eun-shik (Im Chang-jung) is a college student who is always tricked by his friends. One day, he comes across a beautiful girl called Eun-hyo (Ha Ji-won) on campus. He falls in love with her at first sight, while her object of affection is another person... Every character in this film is sex addict. They can relate anything to sex. For instance, sperm is an important element that is used more than once. Other gags, like the embarrassing one night stand in the hotel and the scene when the female breaks into the house seeing the male is masturbating, are also very funny but nasty.
As the film progresses and the relationship between Eun-shik and Eun-hyo develops, the nonsensical humors are gradually replaced with a more intense drama. As a matter of fact, a love plot is almost a mandatory element in a sex comedy. The romantic affairs between Eun-shik and Eun-hyo is quite predictable, yet what surprises me is the abrupt transition near the end. Without spoiling the fun for the audience, I can only say that it is a very extreme shift of plot development from comedy to tragedy. Actually this kind of tear-jerking comedy is no stranger to any Korean fans. My Sassy Girl is a prime example that utilizes this plot device to trigger the emotions of the audience successfully. It is no wonder why Sex is Zero, following a similar formula, would be welcome by the audience again.
Im Chang-jung's Eun shik may be the most ill-treated character in Korean film history. His encounters are unbelievably sick. Jumping from a building and eating bread with sperm are only a minor part of the list he has to go through in the film. However, one good thing about this character is that, no matter how worse the situation is, he is always able to face his destiny with an optimistic attitude. It is a very positive character that is likely to gain respects and love from the audience. Im's outstanding performance also beat everyone else in the film, including the gorgeous Ha Ji-won, who has nothing much to do except for showing off her great body.
Sex is Zero is a very entertaining comedy. The outspoken treatment of the sex subject is especially worth our appreciation. If you can stand the dirty jokes without considering it cheap, you should absolutely give it a shot.
Cool guy(s) - Im Chang-jang
Reviewed by: Kantorates