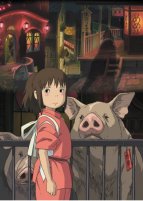 Spirited Away
Rating: 10/10
Year: 2001
Genre: Animation
Director: Hayao Miyazaki
Cast: N/A
Spirited Away, the highest grossing film in Japan film history ever, is also the best Asian film produced in 2001. It is a film for everyone, regardless of age, class or gender.
The film starts with Chihiro and her parents moving to a countryside area. There they discover a strange town on the other side of a tunnel. In a place that doesn't exist, something impossible is going to happen. An unbelievable journey is waiting for Chihiro!
Identical to many Miyazaki's animations, for instance, My Neighbor, Totoro and Laputa, the protagonist is a kid. The entire film is composed of wonderful imaginations and fantastic visual elements. The setting is an imaginary old town. Miyazaki reveals in an interview that the inspiration of this spooky little town is from an archaic theme park (I don't read Japanese and didn't get the name of the park) located next to his Ghibili Studio. It explains why the setting has a heavy Japanese touch, in comparison with the westernized world of Laputa and Kiki's Delivery Service. It is also not difficult to trace some other referential materials there, for instance, the Big Head Lady and her giant baby resemble the Duchess and her baby in Alice's Adventure in Wonderland awfully. The white dragon is similar to the dragon in The Neverending Story, and the character design of the gods reminds us of Tsui Hark's A Chinese Ghost Story - The Animation a lot. To me, what is interesting is that Miyazaki is capable of handling these materials even better than the originals.
Hayao Miyazaki is an avid guardian of nature. In the past, he always incorporated the message of environmental conservation in his films. This time in Spirited Away, he inserts such message again. Why does the river god become a rotten monster? It is all because of the rubbish people discarded in the river! Why is the public bathroom for gods such a prosperous business? It is all due to the perpetual environmental pollution done by human. Moreover, it seems that Miyazaki wants us to return to nature. The highly civilized metropolis is polluted by human, in return, it contaminates people's mind. Before he enters the public bathroom, which is a symbol of a metropolis, the god without a face has a pure heart. Once he gets in there, he witnesses the ugly and selfish behaviors of the people and is influenced by them, that he finally becomes a horrible monster. It signifies how one's mind can be contaminated by the "dirty" metropolis. The prosperous bathroom and the peaceful little hut of the elder sister are also a good comparison. Although the younger sister makes a lot of money in the public bathroom, she does not seem to be happy, while the elder sister leads a quiet but fruitful life in her little hut.
Unlike other Miyazaki's films in which the protagonist is always a smart and eloquent girl, Chihiro is not that cute. She has indulgent parents. She is not as lovely as Satsuki in My Neighbor Totoro or Kiki in Kiki's Delivery Service. However, her character is a very genuine portrayal of the children in Japan nowadays. It seems that Miyazaki wants to sound a note of warning to the parents, reminding them that in order for their children to grow healthly, they must let them understand the value of life.
As usual, the animation is very beautifully drawn. Starting from the production of Princess Mononoke, computer graphic is widely used in Miyazaki's films. Once again, in this film, the computer animation fits the style of the story perfectly. It is hard even for a carping critic to find a flaw. The affluent use of background music reminds me of George Lucas's Star Wars, in fact, Miyazaki's vision is expanding to a level that is similar to Lucas's creation of the universe of Star Wars.
Spirited Away is without doubt the best Asian film ever produced in 2001. To me, it is even the best film in the past five years I have watched. No matter you are an anime fan or not, it is highly recommended that you go get a copy and experience the magic of Miyazaki now!
DVD (HK version) - It is reported that both the Japanese (R2) version and the Hong Kong (R3) one suffer from a red tint problem. That is, the image seems to be coated in red tint. It is not a big problem actually. I myself didn't find it distracting when I was watching it. If you don't learn about it in advance, you probably wouldn't notice the red tint at all. Disc 2 contains a thirty minutes long "making of" documentary featuring a short interview with Hayao Mizayaki and a tour of Ghibili Studio. The documentary is in Mandarin and with non-removable Chinese subtitles. It is a pity that no other subtitles option is available. For the Animation/Comic switching feature, I didn't find it too be a very exciting bonus feature.
Reviewed by: Kantorates