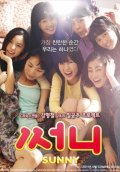 Sunny
Rating: 8/10
Year: 2011
Genre: Drama
Director: Kang Hyung-Chul
Cast: Yoo Ho-Jeong, Jin Hee-Kyung, Shim Eun-Kyung, Kang So-Ra
A Love Letter to Oneself
Last year witnessed a huge success of a Taiwanese movie, You Are the Apple of My Eye, at the box office. If you feel like a Korean female version, don't miss Sunny, a hilarious, but sometimes poignant coming-of-age story about middle age crisis and the ups and downs experienced during adolescence, for example, puppy love, friendship, family, bullying, dreams, etc.
Sunny is a love letter to oneself which reminds me of Rene Liu' song "For myself at 15". There are at least two scenes which play upon the audience's heartstrings. First, the teenage girls talk to their future selves about their dreams in front of a video camera, which cruelly reminds Na-Mi in the present of the wreckage of their dreams destroyed by reality. Second, Na-Mi puts a consoling arm around her teenage self around her shoulders, which symbolically implies her letting go. Thanks to the right pacing and skillful editing interweaving the present with the past, they are definitely two of the most touching scenes of the year. After watching the movie, you won't help asking yourself if you have forgotten about your dreams.
The songs used add a sense of nostalgia to the movie. The most powerful one is Reality by Richard Sanderson. Please note the slightly different uses of the song in several scenes throughout the movie. Thanks to this romantic song, the scenes echo with one another, highlighting the protagonist's unrequited love for the boy, her piercing sadness when she sees the boy using the same strategy to impress her female friend, as well as her regret about not having given him the portrait and told him how she feels. For your information, the scenes in which the boy stealthily helps the girls wear his headphones playing Reality are indeed a tribute to Claude Pinoteau's La boum, a movie released in 1980 about the first love experiences of a teenage girl.
The movie, which runs two hours plus, is slightly too long, despite the director's understandable attempt to develop a large number of characters. As for the dancing scene at the end of the movie, albeit slightly overlong, it is necessary as it shows their genuine bond of friendship after 25 years since graduation. Also, the ending seems contrived and sugary, whereas the minor flaws previously mentioned can be offset by its charismatic cast, well developed characters and the nostalgic setting.
There is a trace of irony when the protagonist's mother grumbles about the cliched Korean soap operas twice. Nevertheless, the director also reminds us that life is like a film and it is not uncommon that people around us can be struck down by cancer anytime. Being strongly reminiscent of our bitter-sweet and silly memories during adolescence, Sunny successfully reminds us to live life to the full so as not to have regrets.
Reviewed by: Kenji Chan