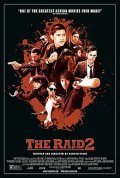 The Raid 2
Rating: 9/10
Year: 2014
Genre: Action
Director: Gareth Evans
Cast: Iko Uwais, Arifin Putra, Oka Antara, Tio Pakusadewo, Alex Abbad, Julie Estelle
After introducing western audiences to the martial art of Pencak Silat in his raw and brutal The Raid: Redemption, writer/director Gareth Evans is back with The Raid 2, a bigger, badder, and even more satisfying action extravaganza than its predecessor. With an increased budget of $4 million, Evans has taken the fight outside the confines of the gang-infested tenement and into the heart of the city of Jakarta.
At a hearty 148 minutes, an unheard of length in the action genre, The Raid 2 takes its sweet time in weaving an epic crime saga full of deceit and betrayal, with multiple antagonists all vying for the top of the criminal food chain.
The story of The Raid 2 starts two hours after the end of the first film, where this time, rookie Jakarta cop Rama (Iko Uwais) is ushered into an uncover mission where he has to infiltrate a prison in order to win the trust of Uco (Arifin Putra), the son of well-respected local crime lord Bangun (Tio Pakusodewo). Disguised as a violent offender named "Yuda," Rama fights his way into Uco's inner circle and eventually becomes his right-hand man and confidant. Once out of prison, Uco and Rama are sent around the city on petty missions by Bangun, which irritates the headstrong Uco, who has greater criminal ambitions. Unable to live under the shadow of his father any longer, Uco forms an uneasy alliance with a budding kingpin named Bejo (Alex Abbad) to start a war with the Goto clan in a bid to take over the entire city. It is ultimately Rama's job to slay this two headed monster and put an end to it once and for all.
This time around, writer/director Evans packs the film to the brim with even more of what audiences loved from The Raid: Redemption, while expanding on the universe in which these characters exist in. Aside from the leads, he's added an assortment of colorful supporting characters to keep the story from being bogged down by the drama unfolding in the main plot. A brother and sister assassin team called Hammer Girl and Baseball Bat Man, and a loyal assassin named Prakoso (Yayan Ruhian, Mad Dog from the first film) provide three of the film's most memorable fight scenes which will make even the most harden action connoisseur cringe in shock and disgust. The gritty and brutal choreography (by the team of Uwais, Ruhian, and Evans) is reminiscent of some of the greatest Hong Kong action classics of all time, while adding its own distinct Indonesian flare with the use of traditional forms and weaponry. Another absolute highlight is a car chase in downtown Jakarta, featuring innovative camerawork not seen before in Hollywood action films. To add a touch of irony, it was also Evans' first time shooting a car chase, which has inadvertently set the bar for how realistic car chases should be shot. This all culminates in a climatic finale between Rama and The Assassin (Cecep Arif Rahman) which is practically a how-to guide in performing a vivisection. Covered in all this blood is the score by Joe Trapanese, Aria Prayogi, and Fajar Yuskemal, which perfectly captures the mood and tension in all these scenes.
If you are a fan of first film, you will most definitely enjoy this second go-ground with Rama. If not, you'll most likely be covering your eyes throughout this one.
The Raid 2 opens in the San Francisco Bay Area on April 4th.
Reviewed by: Stephen Kuo