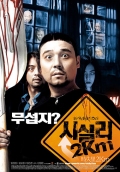 To Catch a Virgin Ghost
Rating: 7/10
Year: 2004
Genre: Comedy
Director: Shin Jung-won
Cast: Im Chang-jung, Im Eun-kyung
Sisily 2km (aka: To Catch A Virgin Ghost) has an interesting start, a moving and touching intermission but a less than inspiring ending. It starts by offering something new but finishes too unimaginably.
A gangster hit-and-run story begins when Suk-tae is driving while listening to Chuck Mangione's Great hit, Feels So Good. A black comedy is what it means when Suk-tae's good luck (after disposing his immediate boss, Yang-e and seizing a pack of diamonds) evaporates as everything he encounters afterwards will "fel so bad". Therein enters the 6 "Quiet Family" members (and the resort hotel), who are destined to commit grievous crime by unleashing their greedy desire.
To get back the diamonds, Yang-e and his 3 sidekick gangsters embark on the hide-and-seek game to ncover the whereabout of Suk-tae. The clue leads to the Quiet Family . At first, they are on the winning side as the true colors of the gangsters win them the temporary submission of the Quiet Family. The recovering of more diamonds tfrom Suk-tae than the Quiet Family has expected compels the latter to conspire against the gangsters.
Therein enters the third force, a virgin ghost who has a beautiful face and a warm heart despite being a ghostly spirit. The scenes whereby Yang-e the bad boy meet with the good girl Song-e are brilliantly constructed and comedic dialogues are delivered with great performance offered by Im Chang-jung.
The movie begins to go astray when Suk-tae rises up from his death (with a strong resemblance of the great monster in Sam Raimi's Evil Dead) to exact his hatred on the Quiet Family members. It is this part that nearly spoils the whole movie. A better-worked-out ending would instantly elevate Sisily 2km to the rank of Kim Jee-woon's classic, The Quiet Family.
On the whole, Director Shin tries hard to pick up pieces of constitutive elements of a horror movie by subverting them into fragments of black humor. For example, bunch of gangsters being chased by peaceful farmers; virgin ghost being bullied into submission; & the "Quiet Family" being transformed into genuine soulless creatures. All these elements have been present in contemporary South Korean movies. But Shin has decided to mock them all with verve and talent (up until the near ending).
Other in-jokes are staged. For example, Iim Chang-jung's unfortunate penis in Sex Is Zero (2002) is constantly mocked and shamelessly exposed now and the penis joke is even raised on the virgin ghost, Im Eun-kyung. Another example is the nicknaming of one of the sidekick as The Monk, another mocking of a 2001 hit, HI, Dharma.
Sisily 2 km has its great moments but it doesn't sustain the rigor to the end. Iim Chang-jung's brilliant performance saves the movie from disaster & his appearance is worth a watch after Sex Is Zero.
Cool guy(s) - Im Chang-jung
Reviewed by: Sebastian Tse