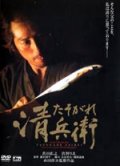 Twilight Samurai
Rating: 8/10
Year: 2002
Genre: Drama
Director: Yoji Yamada
Cast: Hiroyuki Sanada, Rie Miyazawa, Nenji Kobayashi, Tetsuro Tamba, Keiko Kishi
Yoji Yamada's Twilight Samurai is perhaps not the highest grossing Japanese film of all time, but it is definitely one of the most successful ones. Having won so many awards in the country, this 77th effort (reportedly) of the prolific director proves to be a rewarding viewing experience. Although it does not have a very dramatic plot, nor are there too many sword fight scenes, it nevertheless succeeds in grabbing the heart of the audience with its charismatic and emotional story of a great father.
It is a realistic portrayal of a poor samurai called Seibei (Hiroyuki Sanada). Seibei's wife has passed away at early age of their marriage and he has to take her part. He sacrifices all his leisure time to take care of his two daughters and his senile mother. One day, his childhood girlfriend Tomie (Rie Miyazawa) returns to the neighborhood after a failing marriage. The two of them still love each other, but they are just too passive to say that out. Meanwhile, Seibei is assigned a dangerous task. Before he departs, he decides to confess to Tomie... This story is told in a very straightforward and simple manner. Director Yoji Yamada relies on a very natural and linear cinematic approach to bring out Seibei's life. From Seibei's interaction with his colleague to his daily life at home, and from the duel of the samurai to the confession of Seibei, most of these scenes are realistic yet subtle. There are no visually stunning composition or exotic editing at all. Everything just looks so plain and calm. It is quite different from the typical Hong Kong or Hollywood films in which the emotions of the characters are always blatantly presented.
The protagonist of this film, Seibei, is an appealing character. Although he is indigent and his wife has died, he never actually feels despair. He never complains about his misfortune. When the merchant refuses to buy his bamboo cage at a higher price, he just asks him to consider it again, and then he keeps working as usual. At first glance, this character seems to lack an ambition to strive for a better life, but if you see it from another perspective, you'll eventually find out that what he looks for is not physical properties, but spiritual poessession. From the dialogues as well as his behaviors in the movie, it clearly shows that to Seibei, the most important asset is always his two daughters. An intact family is what this man cares most. When every family member is at home, none of them looks unhappy. They talk to each other, help each other and laugh happily. Aside from poverty, this is actually a very pleasant and lovely family. Moreover, the addition of Tomie to the family makes it even more complete by serving the long lost maternal position.
Excellent actings from Hiroyuki Sanada and Rie Miyazawa enhance the dramatic quality of the film a lot. Sanada's composure does bestow life upon his character. A respectful father is slowly built up piece by piece in the film. Rie Miyazawa does not share too much screening time, but her character is so vulnerable and captivating and therefore wins the heart of the audience easily. To a certain extent, Seibei and Tomie are almost perfect in terms of morality, which I think is little too good to be true.
The two major topics raised in Twilight Samurai, family relationship and love, are nothing new to the audience. What Yoji Yamada does is to merely display these pure and exquisite qualities of human being in an honest manner. The reason why we love this film is because we are emotional being. We always need encouragement to reassure our insecure faith in good human nature, and that's what this film provides us.
Cool guy(s) - Hiroyuki Sanada, Rie Miyazawa
Reviewed by: Kantorates