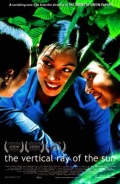 Vertical Ray of the Sun, The
Rating: N/A
Year: 2000
Genre: Drama
Director: Tran Anh Hung
Cast: Tran Nu Yen-Khe, Nguyen Nhu Quynh, Le Khanh, Ngo Quang Hai
The plot of The Vertical Ray of the Sun is similar to Edward Yang's last masterpiece Yi-Yi (A one and a two) - the set-piece of a family reunion, with all its connotations of union, connection and continuity, followed by an inexorable unraveling, as marriages are shown to be fragile, women sexually unsatisfied, men spiritually empty, roads not taken rearing into view, self-identity shattered.
The treatment, however, couldn't be more different. Yang's austere long-shot long-takes are replaced by a meticulous sensuality - you can feel the summer, the languorous sun, the heavy rains; the ritualistic preparation of, to this viewer, exotic food, of dressing up, or simply washing; the lush vegetation and muddy Vietnamese streets; the play of light, especially reflecting water on solid surfaces, suggesting their instability, the fluidity of certainties; but also the spiritual hidden in the everyday.
The emphasis on see-through materials, like raincoats or mosquito nets, give a foetal resonance to a family drama encompassing death and birth, adultery and virginity, the secrets of the past and the uncertainties of the future, all the time celebrating a transcendent present tense.
Scent Of Green Papaya has been a favorite of mine since I saw it a few years ago, thus when Vertical Ray showed up I had to have it. I hate to slight Green Papaya, but now having seen both, this movie is the better of the two.
Vertical Ray is absolutely hypnotic. There are shots in this movie that take my breath away.
Tran nu yen khe (Lien) is so sensual, magnetic, and free in this movie that I can't help but watch her. I thought she was magnetic in Green Papaya, but this movie goes way beyond that . Her emotional range with just facial expressions, not to mention words, is so alluring. She is so perfectly entrancing. It's a strange thing to say, but just she herself...the way she looks at things, talks, and moves... her face... she is a work of art in and of herself. The camera truly loves her. I really can't explain it. She may be the very definition of grace and sensuality.
I don't think there is any lack of movement in this plot or screenplay. There is a lack of explosions, gunfire, and nudity, yes, but that in no way means the movie is missing anything. Also, there is some very funny stuff in this movie! If you don't laugh out loud a few times during this movie then you aren't paying attention!
Obviously we are all different, and maybe it's just me, but I think the director of this movie and Green Papaya, tran anh hung, is amazing. There is absolutely no one in American cinema capable of making films like these. Now I need to see Cyclo.
Although a brilliantly acted, humanistic drama, concerned with real people, and genuine joys, comforts and crises, the film's mise-en-scene is so formally exquisite, the actors often seem to be simply a beautiful part of the decor (especially Tran Nu Yen Khe as Lien and Chu Hung as Quoc), evocative shapes and movements made abstract by the dreamy rhythms of the camera.
This moving story revolves around three beautiful sisters, as they prepare a traditional banquet for relatives as a memorial to their mother. Each sister has their own hopes, dreams, and secrets. As their everyday lives gives us a glimpse at life in Hanoi, we can't help but to feel close to them, as one by one their stories come to light. The fantasies they share, the indiscretions they hide, and the love and support of this close knit family, combined with the scenic backdrop of the lush country will surely take you away to another world for a while. It is a world you may want to revisit often.
The DVD presents a fabulous look at it all, in widescreen, and with its rich colors. The sound has the choice of DD5.1 or 2.0, and surrounds wonderfully. Even the rain looks and sounds crystal clear. The language is in Vietnamese and there are optional English subtitles. There are some moments in the film where the sisters or other family members are singing, and it may have been nice to have subtitles for these as well, but to tell the truth, the voices and lullaby like quality of the music were so soothing, it doesn't really matter what language you hear it in.
Reviewed by: Kelly Kelley