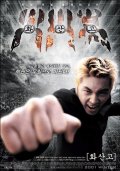 Volcano High
Rating: 9/10
Year: 2000
Genre: Action
Director: Kim Tae-kyun
Cast: Jang Hyuck, Shin Min Ah, Kwon Sang-woo
Volcano High takes every Anime high school cliche ever made and slaps them all together in a two hour extravaganza of amazing special effects, side-splitting humor, and an intentionally overacting cast. The result is cinematic perfection.
The unwitting audience, bear witness to some of the most insane battles ever displayed on film. The final battle has to be seen to be believed - but that's all I'm going to say! I leave it up to you to watch the movie for yourself. Trust me, it's hard to find, but worth the effort... Especially Hyo-jin Kong as So Yo-Seon!
Kyeong-su Kim (Hyuk Jang) is a bad student, one who's been shuffled from school to school eight times before as his rebellious nature has forced him to shun any attempt at conformity. However, his ninth school -- Volcano High -- presents a curious dilemma: the teachers have conspired in a pursuit against the principal and the students to acquire the school's Great Manuscript, a document which promises to give its owner the ultimate power in the universe. A scheming vice-principal manages to overpower the principal, but the secrets of the manuscript still elude him. Now, in order to glean the secrets from the pupils -- all of them equipped with their own special gifts -- who know it best, the man brings in a virtual hit squad of teachers: black-leather-trench-coating wearing thugs who'll stop at nothing to instill discipline even at the cost of death.
Yes ... Kyeong-su Kim is a bad student, but he's finally found the right school to call 'home.'
Volcano High owes much too traditional anime as much as it owes to trend-setting films like The Matriix. While not completely derivative, it also functions like a kung-fu version of the X-Men films, assuming that the story focused more on the academy and its students. The special effects -- Kim's unique ability to harness wave energy and manipulate water -- are absolutely top notch, and, arguably, are even better than what comes out of Hollywood for the average science fiction film.
Movies like Volcano High -- martial arts, action, and coming-of-age, supernatural -- are never really about the script. Rather, the story only serves as a vehicle to deliver some reasonably well-founded (or, at least, acceptable) characterizations along with dazzling visual effects. The wire-fu featured in the film (from the opening fight between Kyeong-su and other students all the way until the climactic showdown between right and wrong) is absolutely spectacular, often times encompassing an entire 360-degree effect. Mr. Ma (the most evil teacher) manipulates wave energy, utilizing it to hurl people and objects out of his way, in an entirely convincing fashion. Also, the aforementioned ability of Kyeong-su to capture and control water is nothing short of exceptional.
Also, Volcano High is the type of motion picture that requires, to a certain extent, leaving your brain at the door. Suspend your disbelief throughout the film, and its pure visceral fun ... harmless cotton-candy pictures for the young-at-heart. There isn't a deep, meaningful message to the script: this is a battle of good versus evil, and it's fought on terms that the average movie-goer (18 - 35 years old) should revel in.
Besides all of that, the last twenty minutes -- a spectacular showdown between Kyeong-su and Mr. Ma hurling energy balls from their fingertips at one another -- will blow your mind.
Reviewed by: Kelly Kelley