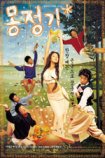 Wet Dreams
Rating: 7/10
Year: 2002
Genre: Comedy
Director: Jung Cho-sin
Cast: Lee Beom-soo, Kim Seon-ah, No Hyung-wuk
As far as I remember, in these few years, there were not too many Korean films with a sex theme, if you talk about sex comedy, it was even rarer. It's no wonder why the emergence of Wet Dreams was akin to the discovery of a new continent to Korean audience and captured their attention successfully.
As the film title Wet Dreams suggest, this is a story about the blossom period of four high school boys who have developed keen interest in sex. A new trainee teacher at their school Ms. Kim (Kim Seon-ah) soon becomes the object of their sexual fantasy. One of them even falls in love with her. On the other hand, the person Ms. Kim actually loves is her colleague Mr. Gong (Lee Beom-soo)... Sex comedy is actually not a brand new genre, in Hollywood, we have films like American Pies, in Hong Kong, there are Yesteryou Yesterme Yesterday and Growing Up. So this genre should not be too refreshing for us. Nevertheless, the story of this movie is quite funny and hilarious. Anyone growing up from the 1980s would probably agree that the nostalgic setting has brought back some collective memories of the good old days.
It is an appropriate move for the filmmakers to set the story in the 1980s. Nowdays in the 21st century, the society is more open. With the advent of the internet, it is very easy for teenagers to have access to sex related materials. If you make up a story saying that they don't know anything about sex, it would just be too unrealistic. Relatively speaking, the jokes in this movie, which are mostly triggered by the amplified desire of the four boys to learn about sex, fit the time frame perfectly. Scenes like upskirt peeping or group masturbation are highly comical yet rational.
In addition to the fantasies of the four boys, there is also a love plot between Ms. Kim and Mr. Gong. Mr. Gong was Ms. Kim's high school teacher. Now they have become colleague and Ms. Kim is trying to win his heart. As a matter of fact, this love affair doesn't seem plausible at all. The two teachers do not share enough screening time to convince the audience of their intimate relationship as well. However, an issue that is worth discussing about this affair is that it continues the theme of Korean cinema in 2002 - a strong female vs a weak male. As you can see from this story, Ms. Kim is the representative of the aggressive and active female while Mr. Gong is simply weak and passive. It seems that starting from the blockbusters like My Wife is Gangster and My Sassy Girl in late 2001, Korean people are still not tired of watching strong female characters on the big screen.
As I have said before, to non-Korean audience, Wet Dreams might not be a big surprise. Nevertheless, I have to admit that it is still an exceedingly enjoyable and successful movie with careful commercial calculation and very high entertainment value. As one of the top 10 grossed Korean movies of the year, it is worth to give it a shot.
Reviewed by: Kantorates