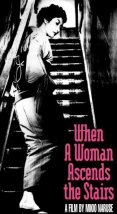 When a Woman Ascends the Stairs
Rating: 6/10
Year: 1960
Genre: Drama
Director: Mikio Naruse
Cast: Hideo Takamine, Masayuki Mori, Tatsuya Nakadai
Mikio Naruse may not be a familiar name to Western audience, but it cannot stop us from appreciating his works. If you still haven't watched any stuff from this guy, it is time to dig it out.
When a Woman Ascends the Stairs is about the miserable life of Keiko (Hideo Takamine), a middle-aged geisha. It depicts how she fails to get married and open a bar of her own. Her life is a big disappointment since she fails to accomplish any achievements from the beginning to the end of the film.
This film is projected in a feminine perspective which provides a very sentimental portrait of a middle-aged geisha. I think one of the major subjects is disappointment. The life of Keiko, the protagonist, is a complete failure. She is a middle-aged geisha, whom at his age, is supposed to get married or open her own bar. But she fails. She fails to get married, the one who proposes is a guy who seems to have mental problem; The one she loves is too weak to get rid of his own wife and marry her; The one who loves her is not loved by her. She fails to open her own bar as well.
Nevertheless, the film still offers hope. The manager Komatsu (Tatsuya Nakadai) still has hope. Although he is rejected by Keiko, the ending does leave us no clue on whether she may change her mind or not. But throughout the films, we notice that she is the type who is easily swayed. Just look at the way she accepts Mr. Sekine's proposal before she is aware of his secret life , you will know that she tends to make her decision based heavily on emotional judgement. It seems that there is a strong possibility that she will accept the manager Komatsu eventually if Komatsu does not give up on her. Since she is still carrying on her job at the end, it also leaves us a possibility that she might be able to find other people to back her up and help her to open a new bar. Therefore, although this film seems to be a depiction of the tragic and disappointment of an aged geisha's life, it is not presented in a complete pessimistic manner. It still reminds us of hope. There is still a way out for her to carry on her life optimistically rather than being trapped in despair.
Hideo Takamine is a charming actress. She is the kind of actress who can act with her facial expression. You do not need to see her talking in order to feel what she wants to convey. She also looks much younger than her real age. Tatsuya Nakadai is superb as usual. I think he is the most prolific actor in Japan after Toshiro Mifune.
VHS (US version) - This film is shot in 2.35:1 ratio, the VHS provides a letterbox transfer. The image area is so small on the screen that it makes it very hard to see. Subtitles are well translated. Get the DVD if you can afford it. I am sure it is a much better choice if you want to fully enjoy the film.
Cool guy(s) - Hideo Takamine
Reviewed by: Kantorates