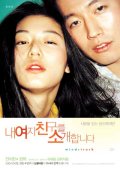 Windstruck
Rating: 6/10
Year: 2004
Genre: Comedy
Director: Kwa Jae-yong
Cast: Jun Ji-hyun, Jang Hyuck, Kim Su-ro
From the director of My Sassy Girl, and also featuring the same star Jun Ji-hyun, Windstruck came out with much anticipations. It is obvious that the film company were expecting it to be another commercial hit. Unfortunately, it failed... Why? I would tend to believe that, with the success of My Sassy Girl and Classic, we have definitely set our expectation for director Kwak Jae-yong too high.
Although Kwak refused to admit, the narrative structure and the character design of Windstruck are without doubt very similar to My Sassy Girl. Kwak employs the same formula of "comedy first and tragedy next". The first part of the movie basically introduces the romantic encounter of the two protagonists Kyung-jin (Jun Ji-hyun) and Myung-woo (Jang Hyuck), and how they fall in love. The mood is quite light and the usual Kwak's style humor can be expected. Later in the middle, the entire focus suddenly changes, and it gradually turns into a tear-jerky romance. Character-wise, perhaps Jang Hyuck's Myung-woo is not as stupid and clumsy as Cha Tae-hyun's Gyun-woo in My Sassy Girl, they do share the same trait of a good and obedient man, and the same goes to Jun Ji-hyun as well. Kyung-jin and the sassy girl are almost twins (maybe they really are, as Kyung-jin has a twin sister!). They both are outspoken and very active to pursue what they like. So with an almost identical plot device, it is no wonder why many people would compare the two movies, and with My as the superior one, it just inevitably makes the flaws of this movie more apparent.
Compared to the tightly scripted My Sassy Girl, the plot of Windstruck is rather loose, especially the first half, which is just like a series of fragmented scenes coming from a music video. Without doubt these scenes are beautifully shot, and a romantic atmosphere is built up successfully, but they just don't look coherent. They just fail to work as a whole. The drama is very weak that in the second half when the real romance comes, the audience just couldn't feel the intimate relationship of the two characters. The only reaction is that these tragic moments are all forced and hypocritical.
Even though the story of this movie is a failure, the cast has nevertheless done a satisfactory job, which saves the movie from being a total flop. Jun Ji-hyun, reprising her role as another sassy girlfriend, is as gorgeous and appealing as usual. Certainly, you probably couldn't discover any new elements from the character, but thanks to the cinematographer, in this movie, she appears even more glamorous than ever before. Jun's fans should definitely be satisfied. Lead male Jang Hyuck already proved to us in last year (2003)'s Please Teach Me English that he is capable of doing a comical role. Same as Jun, his performance is qualified, but fans shouldn't expect too much. Notable cameo appearance includes Kim Su-ro as a kidnapper and prince, Lee Ki-woo (the guy who always faints in Classic) as another prince who also faints easily, and Cha Tae-hyun as a stranger at the train station.
Apparently, Windstruck failed to surpass the popularity of My Sassy Girl, and director Kwak Jae-yong's approach to combine the successful elements of My and Classic is also dissatisfied. Kwak definitely overestimated Jun Ji-hyun's starpower, or on the other hand, underestimated the taste and level of the audience. He probably forgot that after all, a good and emotional script, but not some beautifully shot but hollow scenes, is crucial to a film's success.
Reviewed by: Kantorates